Hirosaki Apple Park (Ringo Koen) [
弘前市りんご公園

]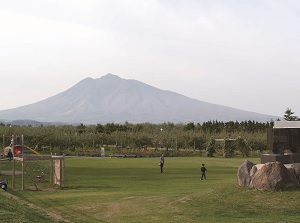 Hirosaki Apple Park & Mt.Iwaki
Photo by Aomori Prefecture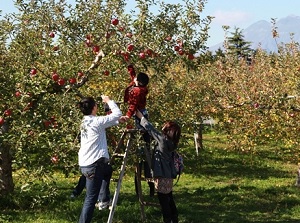 Experience of picking apples
Photo by Aomori Prefecture
Hirosaki Apple Park is a theme park about apple in Hirosaki.
In Japanese, Apple Park is called as "Ringo Kôen".
It is located 2.5 km southwest of Hirosaki Castle.
It is in the suburbs of the city and we can see Mount Iwaki in the park.
This park has a farm with 1,500 trees and 80 varieties of apples.
The visitors can experience to cultivate apples.
We can experience picking unnecessary flowers or hand pollination in May.
In June, we can experience picking unnecessary fruits or covering each fruit with a bag.
And we can harvest the apples from August to November.
In this park, there are a museum about apple cultivation, marketing, nutrition and history of apple production.
How to get here
By 100-yen bus for tourist, 40 minutes from JR Hirosaki station to this park.
By route bus, get off at "Tokiwazaka-iriguchi" stop.
About 20 minutes from Hirosaki Bus terminal near JR Hirosaki station.
Then, about 700 meters walk.
Hotels in Hirosaki
Other Tourist Attractions in Hirosaki city