Yamagata Prefecture [
山形県

]
Yamagata Prefecture is located on the Sea of Japan side of central Tohoku Region.
The shape of the prefecture on the map is similar to a human face.
Whole border line of the prefecture is on some mountain ranges.
Most rivers from the mountains flows into Mogami River.
Mogami River flows through the center of prefecture, then flows to the Sea of Japan.
Most cities and towns are along Mogami River, therefore they call it "Mother River" in Yamagata Prefecture.
The prefectural capital is Yamagata city, which is in the easternly center of the prefecture.
Sendai city is located only 50 km east of Yamagata city.
Because Yamagata Shinkansen reaches Yamagata city and Shinjo city, it is relatively easy to visit from Sendai or Tokyo.
The central and southern areas of prefecture has relatively mild climate, but northern and coastal areas have much rain and much snow.
Main industry in Yamagata Prefecture is agriculture.
Especially the production of various fruits is well-known.
The production volume of cherry and European pear is the top in Japan.
Tourist Attractions in Yamagata Prefecture
Hotels in Yamagata Prefecture
Transportation
Railway
To Yamagata from Tokyo : By Tohoku & Yamagata Shinkansen, 2 hours and 30 - 50 minutes.
To Yamagata from Sendai : By JR Senzan Line, 1 hours and 10 - 20 minutes.
Express bus
To Yamagata from Tokyo : about 7.5 - 8 hours.
Airport
Yamagata airport is located about 18 km north of Yamagata city.
By route bus, it takes 43 minutes from JR Yamagata station.
It has the domestic flights from Haneda (Tokyo), Itami (Osaka), Nagoya and Shin-Chitose (Sapporo).
Shonai airport is located about 13 km south of Sakata city facing to the Sea of Japan, and about 9 km northwest of Tsuruoka city.
It takes 35 minutes from Sakata city, and 25 minutes from Tsuruoka city by route bus.
It has the domestic flights from Haneda (Tokyo).
Main events in Yamagata Prefecture
Shogi with human pieces in Tendo (In the middle of April)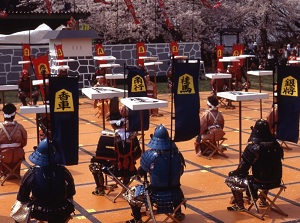 Photo by Yamagata Prefecture
Tendo city is famous as main production center for pieces of Shogi (Japaanese chess).
During Tendo Sakura Festival period (from the middle to late April), a few shogi games are played by professional players.
They don't play on a normal chessboard.
The chessboard is a field on a hill, and each Shogi piece is a human wearing Japanese samurai armor.
Players command human pieces to move to desired position instead of moving a piece.
It seems like a battle in the period of Civil War (the 16th century).
Yamagata Hanagasa Festival (Early August)

Photo by Yamagata Prefecture
Yamagata Hanagasa Festival is held in Yamagata city, and is one of famous summer festivals in Tohoku Region.
"Hanagasa" is a sedge hat decorated with some red blossoms.
Many dancers with hanagasa go dancing to the folk music "Hanagasa-ondo" through the streets.
The call in Hanagasa-ondo comes from a call that the workers tamped down the ground, and current song has been mixed with various songs during about a century.
Japan's greatest Imoni Festival (The 1st Sunday in September)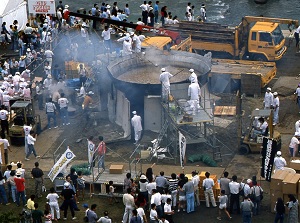 Photo by Yamagata Prefecture
It is a festival held in Yamagata city since 1989.
"Imoni" is a stew of "satoimo" (taro).
Commonly, sliced beef, kon-nyaku and green onion are added.
So, the taste is like "sukiyaki".
Originally after harvesting operation, it has been cooked in a large pot, then many farmers have eaten it together.
In this festival, a large amount of Imoni is cooked in two huge pots 6 meters and 3 meters in diameter.
More than 30 thousand visitors can taste it.
Of course, the pots are too large, so a few backhoes are also operated to cook.
Local foods and products in Yamagata Prefecture
Cherry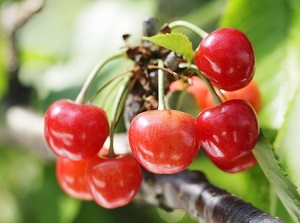 Photo by Yamagata Prefecture
Cherry is called "sakuranbo" in Japanese.
Yamagata Prefecture has more than 70 percent share of the Japan's cherry production.
The popular cultivar is named "Sato-nishiki", and is different from "Somei-Yoshino" which is the popular cherry blossom in Japan.
It is brilliant red and tastes sweet, so commonly we eat it raw.
Because it has a high quality, the price is expensive.
The picking season is late June.
Safflower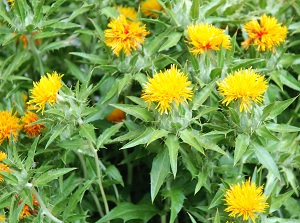 Photo by Yamagata Prefecture
Safflower is called "benibana" in Japanese.
It symbolizes Yamagata Prefecture.
In the 18th century, this area was one of the largest production centers of safflower in Japan.
The flower is yellow, but processed flower shows red color in water.
So it has been used as important dyer.
But since the late 19th century, sufflower in Japan had declined rapidly by increase of imported Chinese safflower.
Now there are not so many farms of safflower.
But when the blossoms open up in July, the events for safflower are held at each farm.
Yonezawa Beef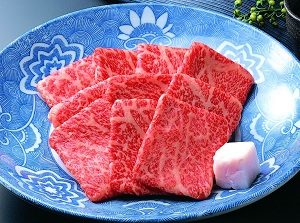 Photo by Yamagata Prefecture
Yonezawa the beef is produced around Yonezawa city in the south part of Yamagata Prefecture.
It is known as one of tasty beefs in Japan.
In 1871, a British teacher who was invited to Yonezawa for English education had this beef, and at that time he was surprised at the excellent taste.
So when he left Yonezawa, he took a cow to Yokohama city, his primary destination in Japan.
Since that, Yonezawa beef has become famous.
Pieces of Shogi (Japanese chess)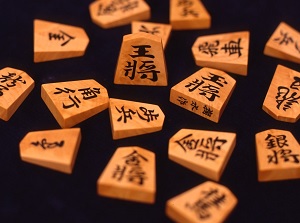 Photo by Yamagata Prefecture
Shogi is a Japanese board game, and it is translated as "Japanese chess" in English.
Tendo city produces more than 90 percent of the pieces of Shogi in Japan.
The piece is pentagon-shaped and is made by carving from wood.
On both sides of each piece, a name of the role is written with black lacquer or carving.