Three sacred mountains of Dewa [
出羽三山

]
Tourist Attractions in Dewa-Sanzan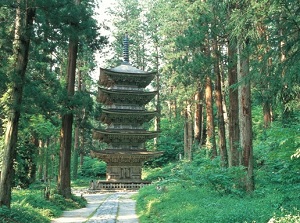 Five-story Pagoda in Mt.Haguro
Photo by Shonai Visitors Association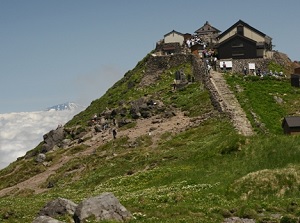 Mt.Gassan
Photo by Shonai Visitors Association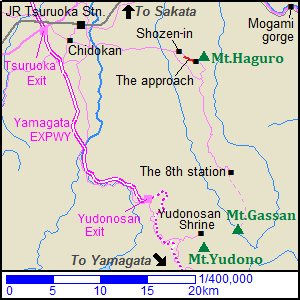 There are three sacred mountains to the south of Tsuruoka city in Yamagata Prefecture.
In Japanese, it is called Dewa-Sanzan (出羽三山).
These are Mount Haguro (羽黒山, 414 m), Mount Gassan (月山, 1,984 m) and Mount Yudono (湯殿山, 1,500 m).
Mount Gassan is the central mountain, and the peak of Mount Yodono is about 4 km west-southwest of it.
And Mount Haguro is a small peak at the foot of Mount Gassan, and is located about 18 km north of it.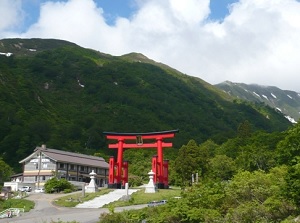 The shrine of Mt.Yudono
Photo by Shonai Visitors Association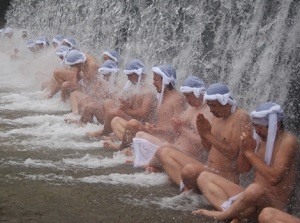 An ascetic practice by mountain priests
Photo by Yamagata Prefecture
According to legend, Prince Hachiko saw a god at the top of Mount Haguro in 593.
Then he performed the ascetic practices at the other two mountains.
It is said that these three mountains became the sacred area since that.
There are Shinto shrines on each peak of the mountains.
Even now, many mountain priests perform the ascetic and hard practices strolling in these mountains for over a week in early autumn.
How to get here
By route bus,
To Mt.Haguro, about 50 minutes from Tsuruoka station.
To the 8th station of Mt.Gassan, 55 minutes from Mt.Haguro.
To Mt.Yudono, about 1 hour and 20 minutes from Tsuruoka station.
Other Tourist Attractions in Yamagata Prefecture