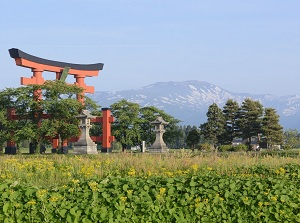 Gassan from the entrance to Mt.Haguro
Photo by Yamagata Prefecture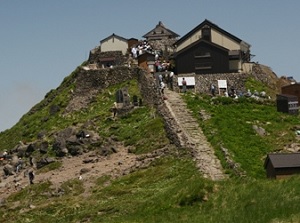 Gassan Shrine on the top
Photo by Shonai Visitors Association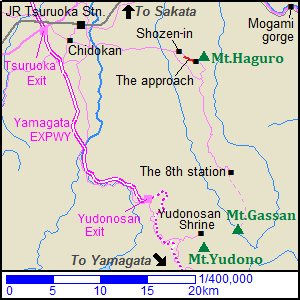 Mount Gassan is a shield volcano, and it has gentle slope.
It is the central mountain of Dewa-Sanzan.
The altitude is 1,984 meters.
Mount Haguro is located about 18 km north of Gassan, and it is a small mountain on the north foot of Gassan.
Gassan erupted about 300 thousand of years ago.
Since that, this volcano has been inactive.
There is Gassan Shrine (月山神社) on the top of the mountain.
Of course, this is one of sacred areas of Dewa-Sanzan and the mountain priests visit here for practices.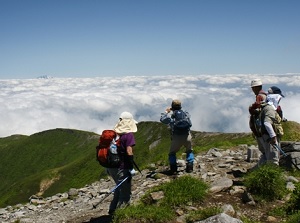 Gassan Shrine on the top
Photo by Shonai Visitors Association
Gassan has rich nature, so we can see many alpine plants in summer.
A road reaches the 8th station on the northern slope of this mountain from Mount Haguro.
Gassan is opened only from July 1st to the middle of October.
When you visit the top of the mountain, you need the equipment for mountain climbing.
It takes about 3 hours from the 8th station to the top. (The distance is about 5 km.)
So, you need a day to visit here.
How to get here
By route bus, 55 minutes from Mt.Haguro to the 8th station of Gassan.
Hotels in Tsuruoka city
Other Tourist Attractions in Dewa-Sanzen