Mount Haguro (Hagurosan) [
羽黒山

]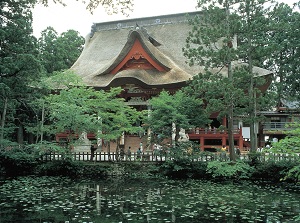 Sanjin-Gousaiden
Photo by Yamagata Prefecture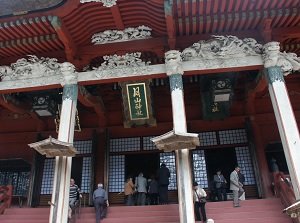 Worshipers at Sanjin-Gousaiden
Photo by Yamagata Prefecture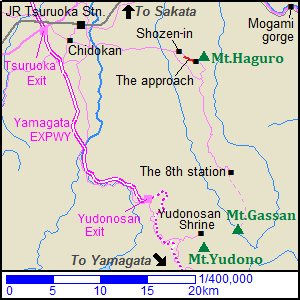 Mount Haguro ("Hagurosan" in Japanese) is a mountain located about 13 km east-southeast of Tsuruoka city.
The altitude is 414 meters, and it is the northern hill of Mount Gassan.
The main sacread area is on the top of the mountain.
There are some shrines and a museum around this ground.
The mountain priests performing the ascetic practices strolling in Dewa-Sanzan start from here.
There is Sanjin-Gousaiden (三神合祭殿) shrine near the peak of the mountain.
It is the central shrine of Dewa-Sanzan, and was built in 1818.
Because Mt.Gassan and Mt.Yudono is very snowy in winter, these shrines are dedicated to this shrine together for worshiper.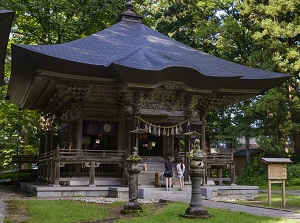 Hachiko Shrine near Sanjin-Gousaiden
Photo by Yamagata Prefecture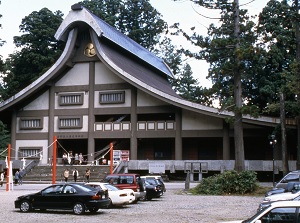 Dewa-Sanzan History Museum
Photo by Yamagata Prefecture
You can reach here directly by bus or car.
A highway leads to the top of the mountain from south.
But there is the original approach on the west side of the mountain.
You must climb the mountain on foot.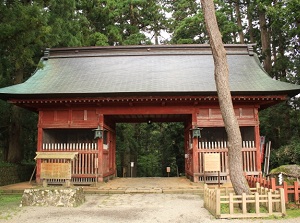 Zuishinmon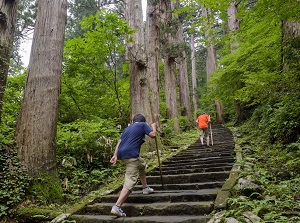 Approach with 2446 steps
Photo by Yamagata Prefecture
There is the shrine office at the foot of the mountain.
There is Zuishinmon (随神門) gate near the place.
When you have passed the gate, you are in the sacrid area of Mount Haguro.
The approach is on a slope about 2 km long, and it is in the forest of Japanese cedar which is designated as a special national natural treasure.
You must go up the stairs with 2,446 steps to the top.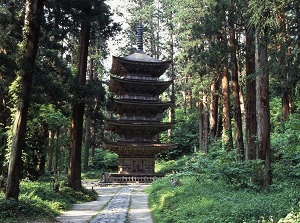 Five-story pagoda on the approach
Photo by Yamagata Prefecture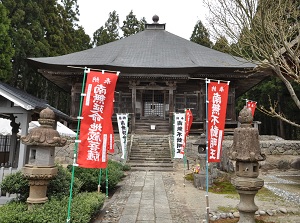 Shozen-in Koganedo
Photo by Shonai Visitors Association
On the way, there is the Five-story pagoda (五重塔).
The height is about 29 meters.
It was built in the 930s and was rebuilt in the 1370s.
It has been designated as a national treasure.
In addition, there is Shozen-in (正善院) temple.
The shrines of Mount Haguro are Shinto, but this temple is for Buddhism.
It is the main temple for mountain priests of Dewa-Sanzan.
Especially, Koganedo (黄金堂) in the temple was originally built in the late 12th century, and it was designated as a national important cultural property.
How to get here
By route bus, about 50 minutes from JR Tsuruoka station.
Hotels in Tsuruoka city
Other Tourist Attractions in Dewa-Sanzen