Mount Yudono (Yudonosan) [
湯殿山

]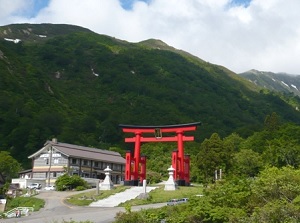 Terminal to Yudonosan
Photo by Shonai Visitors Association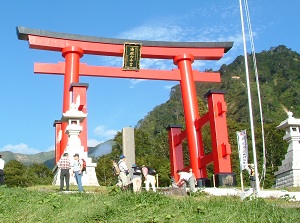 Torii gate of Yudonosan
Photo by Shonai Visitors Association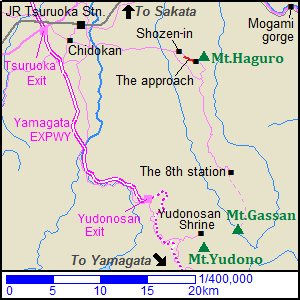 Mount Yudono ("Yudonosan" in Japanese) is also one of sacred mountains.
It is located about 4 km west-southwest of Mount Gassan, and it is on a ridge of Gassan.
The height of the peak is 1,500 meters.
The most important area is located in a narrow valley flowing a river on the north mountainside.
The area is called Yodonosan Shrine (湯殿山神社, "Yudonosan Jinja" in Japanese).
This shrine is very unique.
The god is a big red rock where hot water is flowing.
I hear that it is similar to one of female parts.
There is no shrine building in this area, and the god rock is in nature.
Because the whole mountain is the object of worship, it is never allowed to build any artificial object on it.
In connection with that, the visitors for worship must observe the following rules strictly in the sacred area.
You must walk in bare feet.
(You must take off your shoes and stockings at the entrance.)
Photography and video recording are prohibited in the sacred area.
(Therefore, I don't have any photo.)
You must not tell others what you saw and did in the sacread area.
Here is opened from the end of April to November 3rd.
There is no way from Mount Haguro and Gassan to this area.
So, you must come here from Tsuruoka station.
How to get here
By route bus, about 1 hour and 20 minutes from Tsuruoka station.
The bus terminal and the parking is located about 1 km from the entrance of the shrine.
From the parking, shuttle bus of the shrine is operated to the entrance. (About 5 minutes)
Hotels in Tsuruoka city
Other Tourist Attractions in Dewa-Sanzen