Ginzan hot spring resort [
銀山温泉

]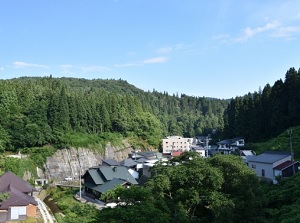 Ginzan Onsen town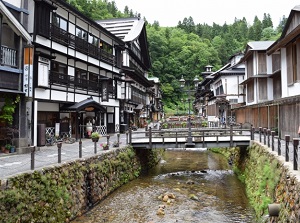 Center of Ginzan Onsen
Ginzan Onsen is a hot spring resort at a narrow valley in the mountains.
It is located about 15 km east of Ooishida station of Yamagata-Shinkansen. (It is the main station of Obanazawa city.)
The position is about 40 km north-northeast of Yamagata city and near the border with Miyagi Prefecture.
Ginzan River flows through the onsen town, and there are many Japanese-style ryokans on both riversides.
"Ginzan" means "silver mine".
Here was a silver mine from the middle of the 15th century to the late 17th century.
In the early 17th century, a miner found the hot spring in the river.
After the production of the mine declined, this area became popular as a resort town for hot spring cure.
But in 1913, this town was destroyed by a flood.
So, the amount of discharge of the hot spring had been decreased.
They had made an effort to reconstruct the hot spring town.
Then at last they succeeded in striking a rich hot spring again in 1925.
After that, all ryokans rebuilt new western-style wooden buildings with three or four stories at the same time.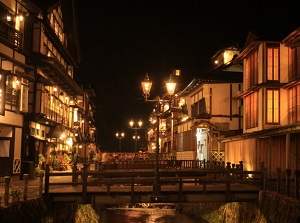 Ginzan Onsen in the evening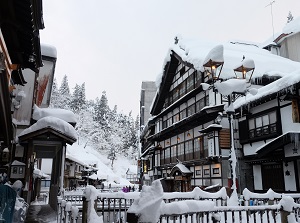 Ginzan Onsen in winter
Each buildings have maintained the style until now.
As a result, this town has become a popular destination because of its retro mood.
Obanazawa city has established the law for the preservation of this scenery.
In this resort town, there are two public bathes, old Ooyu (大湯) and new Shirogane-yu (しろがね湯).
And a footbath Warashiyu (和楽足湯) is on the street, then we enjoy it at no charge.
How to get here
By Yamagata-Shinkansen, get off at Ooishida station.
It takes 30 - 40 minutes from Yamagata, and 14 minutes from Shinjo.
From Ooishida station, about 40 minutes by route bus.
Hotels around Ginzan Onsen
Other Tourist Attractions in Yamagata Prefecture