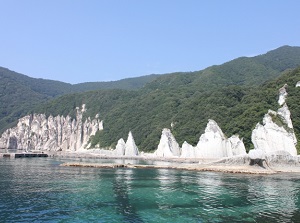 Hotokegaura is a part of west coast of Shimokita peninsula.
There are white uniquely shaped rocks and cliffs along the coast for about 2 km.
These have been formed by wild waves of the sea, strong wind and rain.
"Hotoke" means "Buddha".
The height of some rocks and cliffs are more than 100 meters, and they looks like statue of Buddha.
Therefore, each rock is given the name in relation to Buddhism such as "the head of Nyorai", "Gohyaku-rakan", "Gokuraku beach", etc.
These rocks are located along steep coast.
So, a national road is away from here.
There is an observatory at the side of the road about 1 km from Hotokegaura, then we can see the side view.
And a steep path leads to the coast from there.
You can see them at the foot of the cliffs on the coast.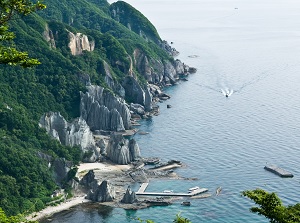 Hotokegaura from the observatory
Photo by Aomori Prefecture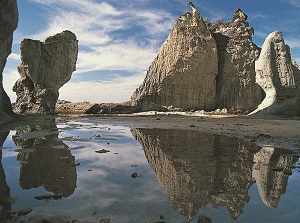 Uniquely shaped rocks in Hotokegaura
Photo by Aomori Prefecture
We can also see the front view from the sea.
The pleasure boats leave from Sai (佐井) town located 15 km north of Hotokegaura.
It is a voyage for 1 hour and 30 minutes.
It visits the Hotokegaura coast and the visitors come ashore on the beach for 30 minutes.
How to get here
By train of Aoi-mori railway, 37 to 43 minutes from Aomori to Noheji station, or 35 to 45 minutes from Hachinohe.
Then, by route bus from Noheji station to Mutsu-bus-terminal in Mutsu city, it takes anout 1 hour 30 minutes.
Transfer to the other bus for Sai town.
It takes about 2 hours.
The pleasure boats starts from here. (Only from late April to late October).
Hotels around Mutsu city
Other Tourist Attractions in Aomori Prefecture