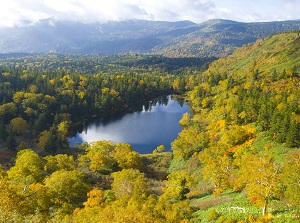 Hachimantai in autumn
Photo by Iwate Prefecture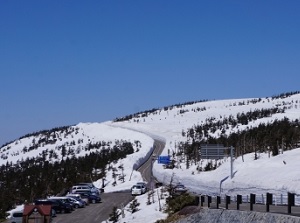 Mikaeri-Tooge in early spring
Hachimantai is a shield volcano which has shallow-sloping sides.
The whole mountain is like a highland.
It is located about 40 km northwest of Morioka city.
It is an active volcano but the last large eruptions occurred about 7,300 years ago and 10,000 years ago.
It crosses over the border between Iwate and Akita prefectures.
There are many small peaks and the highest peak is 1,613 meters high on the border of the prefectures.
Countless ponds and marshes are dotted around the mountain.
Because of a volcano, there are many hot springs around this area.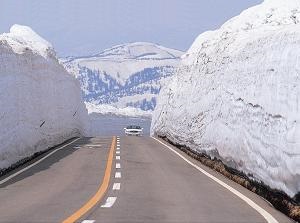 Aspite Line in early spring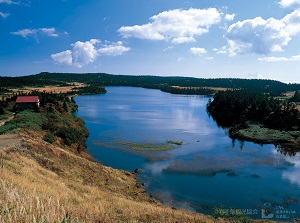 Hachiman-numa
Photo by Iwate Prefecture
To visit this mountain, there is a highway named Aspite Line (アスピーテライン).
"Aspite" is a geographic word meaning "shield volcano", and it was named by a German scientist in 1911.
But the word is not used in the world today.
It runs from the east foot of Hachimantai, through around the highest peak, to the northwest foot.
The length is about 35 km.
Because this area is very snowy in winter, the road is closed from mid-November to mid-April.
We can see the beautiful scenery of Hachimantai with having a drive on this road.
Soon after opening this highway in spring, the cars can run on the road between the high walls of snow.
It looks like a corridor of snow.
The season of new green leaves is mid-June, and the season of autumn leaves is late September.
Mikaeri-Tooge (見返峠) is a mountain pass on Aspite Line at the border between Akita and Iwate Prefecture.
Here is a parking, so most visitors through Aspite Line have a rest here.
Therefore you may be struck in traffic during the tourist season.
We can reach the highest point (1,590 meters high) of the pass about 15 to 20 minutes on foot from the parking.
From the observatory, we can see some peaks of Hachimantai and Mount Iwate (2,038 meters high).
Near the pass, there are small two lakes named "Hachiman-numa" and "Gama-numa", additionaly the highest peak of Hachimantai (1,613 meters high).
We can walk around these spots on walking trails.
Ski resorts around Hachimantai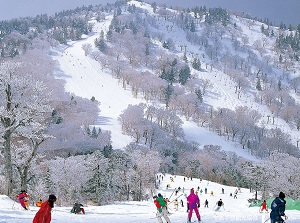 Appi Ski Resort
Photo by Iwate Prefecture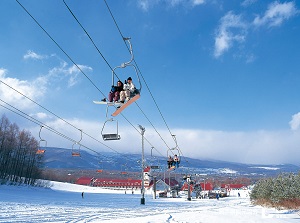 Hachimantai Resort
Photo by Iwate Prefecture
There are a few ski resorts around Hachimantai.
The snow quality in this area is good.
They are opened from mid-December to early May.
Hot springs around Aspite Line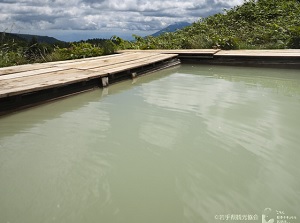 Open-air bath in Toushichi Onsen
Photo by Iwate Prefecture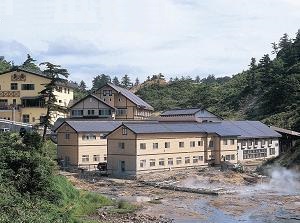 Goshogake Onsen
Along Aspite Line, there are some hot springs.
Each hot spring area has only one or two simple ryokan. (There is no gorgeous hotel.)
Each inn has open-air bath and some inns have the bathroom for mixed bathing.
There is Toushichi Onsen (藤七温泉) about 2 km south of Mikaeri-Tooge.
It is at an altitude of about 1,400 meters.
There are the following onsens about 7 to 11 km west of Mikaeri-Tooge.
These are at an altitude of about 1,000 meters.
In order, they are Oobuka Onsen (大深温泉), Fukenoyu Onsen (蒸ノ湯温泉), Goshogake Onsen (後生掛温泉), and Oonuma Onsen (大沼温泉).
How to get here
By route bus:
From Morioka station, 2 hours and 10 to 30 minutes. (A few buses need to change at Higashi-Hachimantai terminal.)
From Tazawa-ko station, 2 hours and 20 minutes.
From Lake Towada, 2 hours and 50 minutes.
Hotels around Hachimantai
Other Tourist Attractions in Iwate Prefecture