Tourist Attractions in Toono
Toono city ("Tôno" as the pronunciation) is a small inland city.
The population is about 26 thousand.
It is located about 55 km southeast of Morioka city.
The city is in narrow basin.
Mount Hayachine towers about 25 km north of this city.
The altitude is 1917 meters and it is seen from the city.
In the late 16th century, a small castle was built, and the city had been a small castle town.
The castle was abondoned in 1872.
Main industry is agriculture.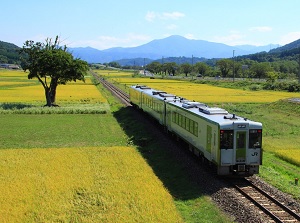 Rural view in Toono
Photo by Iwate Prefecture
In 1912, Yanagita Kunio (1875-1962), a Japanese folklore scholar, wrote a book named "Toono stories".
He listened to many folklores from Sasaki Kizen, his aquaintance born in Toono, and compiled the folklores into the book without ornamentation.
His excellent writing style and the contents without alteration have been highly appriciated.
Therefore, Toono city is known as "land of folklore".
In this city, there are many spots associated with the folklores.
The sightseeing spots are dotted within about 10 km area from JR Toono station.
So when you tour the spots, a car or a rental bicycle is convenient.
How to get here
By Tohoku Shinknasen, get off at Shin-Hanamaki station.
Transfer to the train of JR Kamaishi Line.
To Toono station, about 45 minutes by rapid train, or about 55 minutes by local train.
Hotels around Hanamaki
Other Tourist Attractions in Iwate Prefecture