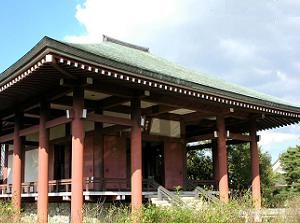 Main temple of Chuguji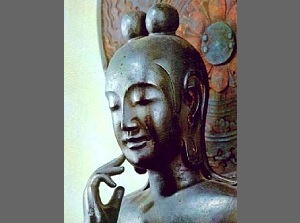 Bosatsu-Hankazo in Chuguji
Chuguji is a Buddhist temple, and is located just east of Horyuji temple.
Both "u" in the word are pronounced long, so it is read as "Chûgûji".
It is estimated that this temple was founded by Prince Shotoku around the early 7th century, around the same time as Horyuji.
The position of this temple was on the east side of Ikaruga Palace which was built by Prince Shotoku, so this temple and Horyuji were set up symmetrically.
But it is not unknown exactly why this temple was founded.
This temple had declined since the 9th century, but it was reestablished in the late 13th century.
From the early 17th century, this temple became a nunnery.
In the precinct, there is an only temple rebuilt in 1968.
But the main attraction of this temple is Bosatsu-Hankazo (菩薩半跏像).
It is a wooden Buddha statue, and is the principal image of this temple.
It is designated as a national treasure.
It was created in the 7th century, and the height is 132 centimeters.
It holds a thinking pose and its gentle smile sanctifies everyone's heart.
Hokan-Miroku statue of Koryuji in Kyoto is also famous as the statue created in the same period.
They say that it is difficult to say which is better, Chuguji's statue or Koryuji's statue.
The entrance of the temple is on the west side near Tô-in Garan with Yumedono in Todaiji.
How to get here
On foot, about 5 minutes from Tô-in Garan in Horyuji.
Other Tourist Attractions in Nara Prefecture
Around Nara city
Spots in Nara Basin
Other area in Nara Prefecture