Wakakusayama (Mount Wakakusa) [
若草山

]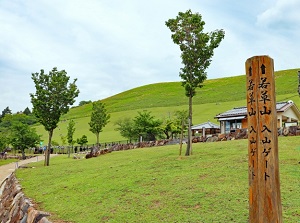 Entrance gate of climbing trail to Wakakusayama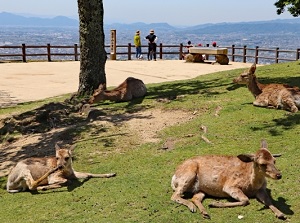 An observatory on Wakakusayama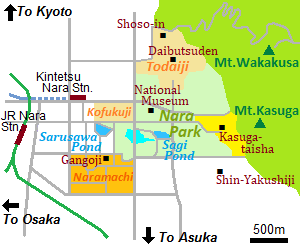 Wakakusayama (Mount Wakakusa) is a mountain located to the east of Todaiji temple.
The old name is Mikasayama (Mount Mikasa).
The altitude is 342 meters.
The altitude of Nara is about 90 meters, so it is a low mountain about 250 meters high.
The peak is located only about 1 km east of the temple grounds of Todaiji.
The mountain is very gentle, and it is like a hill.
The area of the mountain covers 33 hectares, and the whole area is covered with grass.
The grass burning event held in late January is very famous.
The observatory on the top of the mountain is a nice view point.
Especially, the night scenery is very popular.
Around the peak, there is Uguisuzuka Kofun (鶯塚古墳).
It is an ancient burial mound around 4th century, and the length is 107 meters, the width is about 70 meters and the height is 9 meters.
There is a stone monument in 1733 on the top.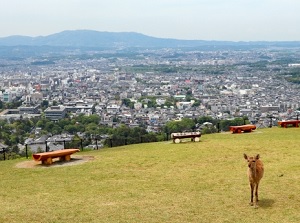 An observatory on Wakakusayama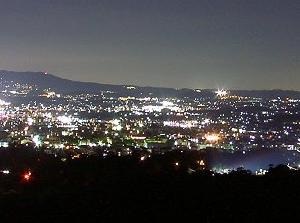 Night view from Wakakusayama
A toll road leads to there from around Shoso-in, but no route bus is operated.
A climbing trail is set up.
The trail is opened from mid-March to mid-December and from 9:00 to 17:00.
But you must pay 150 yen as entrance fee.
There are two entrance gates.
North gate is about 400 meters south of Nigatsudo in Todaiji and South gate is about 400 meters north of Kasuga-taisha.
(The distance between both gates is about 300 meters.)
Additionally, they are closed in the evening, so we cannot go to see the night scene on foot.
(Using toll road by car is OK.)
How to get here
By car, to the observatory, about 10 minutes from around Todaiji.
On foot, about 30 to 40 minutes from the entrance gate (about 1 km).
Other Tourist Attractions in Nara Prefecture
Around Nara city
Spots in Nara Basin
Other area in Nara Prefecture