Niigata Prefecture is a prefecture along the Sea of Japan, and is located in the north-northwestern direction of Tokyo.
The coastline is long and the length is about 260 km.
Sado Island lies off the coast.
The prefectural border is mostly on the steep mountains.
Especially, on the border with Gunma Prefecture, there is the dividing ridge between Sea of Japan side and Pacific Ocean side of Japan.
And, on the border with Nagano Prefecture, there is the Northern Alps.
In winter, cold wind blows from the northwest.
The dry wind from Siberia absorbs much moisture, when it crosses the Sea of Japan.
And the wet wind hits the steep mountains on the prefectural border.
When the wind goes over the mountains, very thick clouds are formed.
The clouds dump much snow in Niigata Prefecture.
So the whole area in Niigata Prefecture is covered with heavy snows in winter.
Around the foot of the mountains, there are many ski resorts.
Niigata city facing the Sea of Japan is the prefectural capital.
The population is about 800 thousand, and the city is the largest on the Sea of Japan side of Honshu Island.
Niigata Prefecture is well-known for rice country.
It has the second largest amount of rice production after Hokkaido, but it has the highest-class brand rice "Koshihikari".
Many Japanese people think that tasty rice is produced in Niigata Prefecture.
(Of course, the rices from the other prefectures are also tasty.)
Because good rice is produced, sake is also tasty in Niigata Prefecture.
Tourist Attractions in Niigata Prefecture
Hotels in Niigata Prefecture
Transportation
Railway
To Echigo-Yuzawa from Tokyo : By Joetsu Shinkansen, about 1 hour 10 to 30 minutes.
To Niigata from Tokyo : By Joetsu Shinkansen, about 2 hour 0 to 20 minutes.
Express bus
To Niigata from Shinjuku : About 6 hours (Night bus)
To Niigata from Osaka : About 11 hours (Night bus)
Airport
Niigata airport is located about 7 km northeast of Niigata station.
It has the flights from Itami (Osaka), Shin-Chitose (Sapporo), Chubu, Fukuoka.
The flight from Narita (Tokyo) and Okinawa is only once a day.
There is no flight from Haneda in Tokyo.
Main events in Niigata Prefecture
Bullfighting in Ojiya and Yamakoshi (From May to November)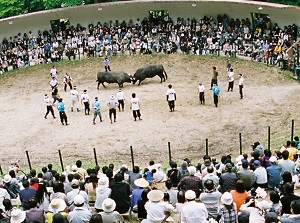 Photo by Niigata Prefectural Tourist Association
The bullfighting in these area has been held for a thousand years.
Two bulls fight with butting heads each other.
And several men watch the match by them.
When one bull gets an advantage, the match is finished by the men.
This fighting is a ritural.
And the bulls are cared for by the people for using as workforce of agriculture.
So after a match finished, the spectators cheer both brave bulls.
The bull rings are in Ojiya city and Yamakoshi district in Nagaoka city, and the matches are held once or twice a month for May to November in each ring.
Nagaoka Summer Festival (August 1 - 3)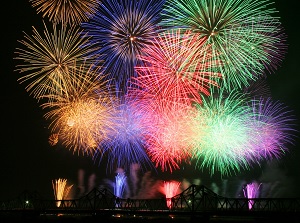 Photo by Niigata Prefectural Tourist Association
It is the summer festival held in Nagaoka city every year.
Especially the fireworks display held in 2nd and 3rd days is the main event.
It is one of the Japan's three largest fireworks displays.
In the two days, about 20 thousand fireworks are set off.
Each firework is great and it is like a spectacular.
The scale and gorgeousness is not comparable to common fireworks festival in various cities in Japan.
After the brilliant fireworks show, some firework workers show their new self-confident fireworks.
About a million visitors come to see every year.
Local foods and products in Niigata Prefecture
Koshihikari harvested in Uonuma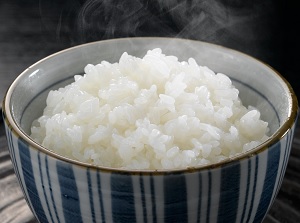 Photo by Niigata Prefectural Tourist Association
Koshihikari is one of kinds of rice, and is very tasty.
So one third of rice production in Japan is Koshihikari, and it is cultivated across the country.
Particularly, Koshihikari harvested in Uonuma city is the top quality.
So, the price is a little high.
It is thought that the climate and water in the area match the rice well.
Most Japanese people really like just cooked hot rice of Koshihikari.
Sake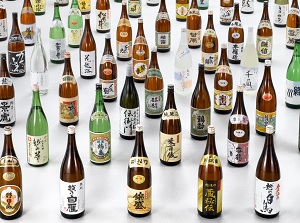 Photo by Niigata Prefectural Tourist Association
Sake is an alcoholic beverage referred to as Japanese rice wine.
Niigata Prefecture is one of the largest producers of sake.
There are around a hundred sake breweries in Niigata Prefectures.
Some of them have the history of over 200 years, but there is no major brewery.
Niigata Prefecture produces good rice and has rich and tasty water of melted heavy snow.
So, each brewery in Niigata produces sake with high quality.
Noppe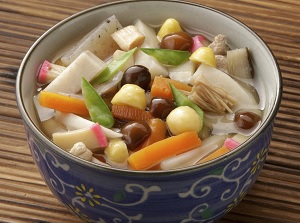 Photo by Niigata Prefectural Tourist Association
It is a stewed dish with many various vegetables.
And it is one of the popular home cuisine in Niigata Prefecture.
There are similar dishes all over Japan.
But the main characteristic of Noppe in Niigata Prefectutre is basically to eat "cold stew".
The main vegetable is satoimo (Japanese taro).
And, carrot, burdock root, chicken, kon-nyaku and some other ingredients are added.
They are stewed in Japanese soup, and the dish is served after getting cold.
Of course, some people eat "hot Noppe".
When it is served on auspicious day, a little salmon roes are topped on the dish.
Sasa-dango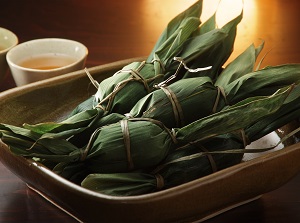 Photo by Niigata Prefectural Tourist Association
It is a dumpling cake filled with "an" (sweet bean jam) wrapped with bamboo leaves.
Of course, we eat the dumpling after we remove the bamboo leaves.
Chopped mugwort leaves are mixed with the dumpling, so the dumpling is green.
Bamboo leaves have sterilizing effect, so this cake was created as a carrying preservative food in the 16th century.
It is the popular confectionery in Niigata Prefecture, then we can get at any souvenir shops.
Itarian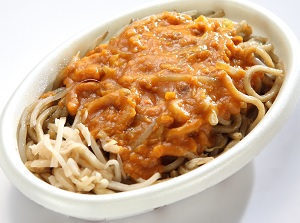 Photo by Niigata Prefectural Tourist Association
It is a fast food only in Niigata Prefecture.
It is a yakisoba (fried Chinese noodle) with Bolognese sauce.
We eat it with not chopsticks but a fork.
This food was created by a master of a cafe in Niigata city in the 1960s.
The eating style is the same as spaghetti, so he named it "Itarian". (Of course, it comes from English word "Italian".)
The restaurants serving the Itarian are "Mikazuki" in Niigata city and "Friend" in Nagaoka city.
The branch restaurants are in many large malls in Niigata Prefecture.