Naeba Ski Resort [
苗場スキー場

]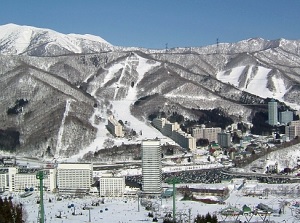 Naeba Ski Resort

A slope in Naeba Ski Resort
Naeba Ski Resort is located about 16 km south of Echigo-Yuzawa town.
It is in the mountain and near the border between Niigata and Gunma Prefectures.
Because the ski slopes have large difference of elevation (889 meters) and is covered with good powder snow, Naeba is one of the most popular ski resort in Japan.
Naeba ski resort have more than 20 slopes for from an advanced skier to a beginner.
And it is opened from late November to late March.
There is wide Kagura Ski Resort about 6 to 12 km north of Naeba.
A long ropeway Dragondola connects between Naeba and Tashiro slope in Kagura.
The lenght is about 5.5 km.
It is convenient to ski on both slopes.
Dragondola is also operated for the fresh green leaves from late April to May and for the colored leaves from October to early November.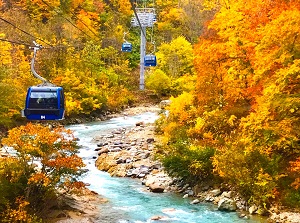 Dragondola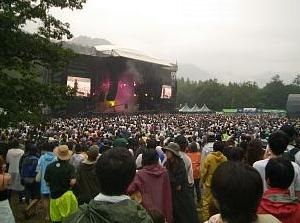 Fuji Rock Festival
Fuji Rock Festival held in Naeba is popular.
It is the greatest open‐air concert of rock and popular music in Japan, and is held for three days in late July every year.
The concert is held from 11:00 to 23:00 in each day.
Because the first festival was held in 1997 near Mount Fuji, the name of the festival has the word "Fuji".
Since 1999, the festival has been held in Naeba.
During the festival, a total of over 120,000 poeple gather here.
Because hotels and ryokans around Naeba can't accommodate such a great number of people, many of the audience stay in the camping site.
So, it may be a little hard to join this festival during your trip.
In addition, this festival requests the audiences to observe manners for self-help and preservation of the natural environment.
For example, separating and bringing home of your trash, no smoking, space reservation for sitting, etc.
How to get here
From Tokyo, by Joetsu-Shinkansen, about 1 hour and 10 to 35 minutes.
By route bus, about 40 minutes from Echigo-Yuzawa station to Naeba Prince Hotel.
Hotels around Naeba Ski Resort
Other Tourist Attractions in Niigata Prefecture