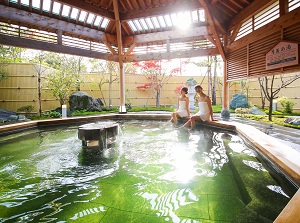 Bath of green water in Tsukioka Onsen
Photo by Niigata Prefectural Tourist Association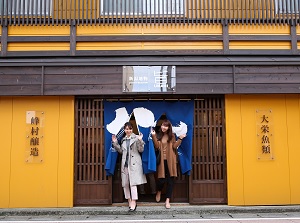 A shop in the town of Tsukioka Onsen
Photo by Niigata Prefectural Tourist Association
Tsukioka Onsen is a hot spring resort in Shibata city.
It is about 8 km south of the center of Shibata city and is located about 23 km east of central Niigata city.
The onsen town is at the edge of the plain including Niigata city.
The area around Niigata produces oil. Of course, the amount is very insignificant.
In 1915, when drilling for oil in this area, hot spring gushed out instead of oil.
So this area became an onsen town, and many onsen ryokans were built.
After the burst of the economic bubble in the 1990s, the number of visitors decreased and half of the ryokans closed down.
But, in the 2010s, various services were created for vitalization of the town and the onsen town became one of the popular resort towns in Niigata Prefecture again.
Now, there are 13 ryokans and hotels in this onsen town.
In addition, most of them have the service of entertainment by Geisha.
(Of course, the additional fee is charged.)
The hot water in this onsen contains much sulfur, so the color of water is clear green.
It is said that the water has the effect of beautifying your skin.
How to get here
By local train of JR Hakushin Line, about 22 minutes from Niigata to Toyosaka.
From Toyosaka station to Tsukioka onsen, the distance is about 4 km.
So shuttle bus is operated from the station. (300 yen)
Hotels in Tsukioka Onsen
Other Tourist Attractions in Niigata Prefecture