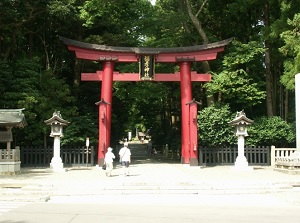 Ichi-no-Torii of Yahiko Shrine
Photo by Yahiko Tourist Association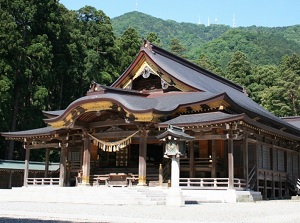 Mt.Yahiko & Yahiko Shrine
Photo by Yahiko Tourist Association
Yahiko Shrine is a Shinto shrine in Yahiko Village.
It is located about 30 km southwest of Niigata city.
There is Mount Yahiko (弥彦山, "Yahikoyama" in Japanese, 634 m) and the main shrine is at the eastern foot of the mountain.
The whole mountain is a part of the precincts of the shrine.
It is not known exactly when the shrine was founded.
The record of the shrine says that the first main shrine was built in 711.
And the name of the shrine is found in the Japan's first anthology of poetry "Man'yoshu" compiled in the late 8th century.
Since that, this shrine has been the central shrine in Niigata Prefecture.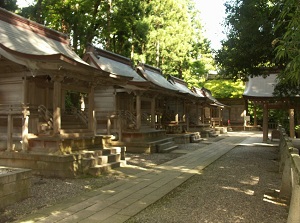 Small shrines in Yahiko Shrine
Photo by Yahiko Tourist Association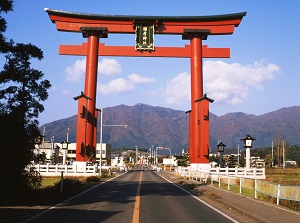 Oo-Torii & Mt.Yahiko
Photo by Niigata Prefectural Tourist Association
There is red Ichi-no-Torii (一の鳥居) which is the main gate of the shrine at the entrance.
The height is 8.4 meters, and each main column is supported by the small columns.
But the torii is unique, because both main columns are floated 6 centimeters from the ground.
The reason is that the gap prevents the wooden columns from rotting due to the water of rain and snow.
In addition, we can see a huge Torii gate in the plain about 4 km east of the shrine.
It is called Oo-Totii (大鳥居), and the height is about 30 meters.
It was built for the shrine in celebration of opening of Joetsu-Shinkansen in 1982.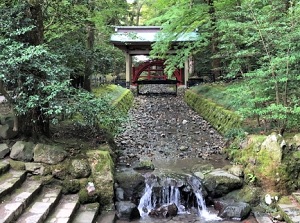 Tamanohashi in Yahiko Shrine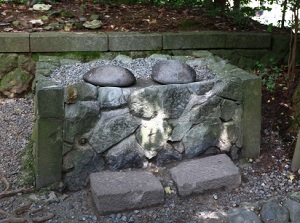 Two round Hinotama-ishi in Yahiko Shrine
After passing through Ichi-no-Torii, you cross a stream.
At that time, you can find another bridge to the left.
It is called Tamanohashi (玉の橋).
Only gods are allowed to cross the sacred bridge, so you can't cross it.
On the way to the main shrine, two stones are put on a place.
They are called Hinotama-ishi (火の玉石) meaning stones of balls of flame, or commonly called Omokaru-no-ishi (重軽の石) meaning either heavy or light stones.
First, make a wish. Then, lift the stone.
If you feel that the stone is light, your wish will come true.
But if you feel that the stone is heavy, your wish will not come true.
There are some buildings in the precincts.
The current buildings of main shrine were rebuilt in 1916.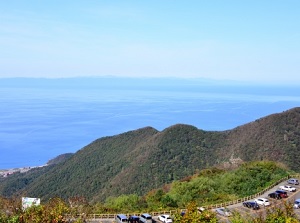 Sado Island from the top of Mt.Yahiko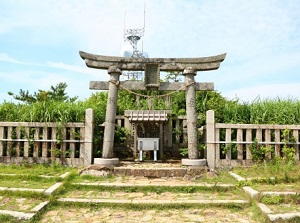 Branch shrine of Yahiko Shrine
Yahikoyama Ropeway is opearted from the foot to the top of Mount Yahiko.
The station of the foot is located about 0.5 km west of the shrine.
Mount Yahiko is near the Sea of Japan, so we can see the view of the sea and Sado Island from the observatory.
And there is a branch shrine of Yahiko Shrine on the top.
How to get here
Get off at Tsubame-Sanjo station of Joetsu-Shinkansen.
About 13 minutes from Niigata.
Change to the local train on Yahiko Line.
From Tsubame-Sanjo to Yahiko, about 30 minutes.
Then, from Yahiko station, about 15 minutes on foot. (About 1 km)
Hotels around Yahiko Shrine
Other Tourist Attractions in Niigata Prefecture