Hoshitoge Rice Terrace [
星峠の棚田

]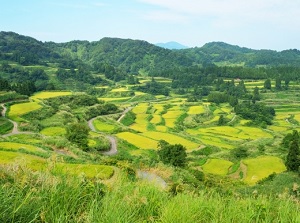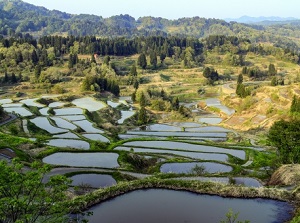 Hoshitoge Rice Terrace is one of the scenic rice terraces in Niigata Prefecture.
The second "o" in "Hoshitoge" is pronounced long, so it is read as "Hoshitôge".
It is located about 20 km west of the center of Tôkamachi city.
It is about 30 km northwest of Echigo-Yuzawa and about 45 km south-southwest of Nagaoka city.
On the undulating land in the mountains, many small rice fields are arranged in a staircase pattern.
Some rice terraces are dotted in Tokamachi city, but the ones of Hoshitoge is the most popular.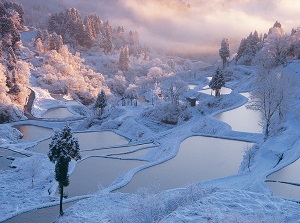 Hoshitoge Rice Terrace in winter
Photo by Niigata Prefectural Tourist Association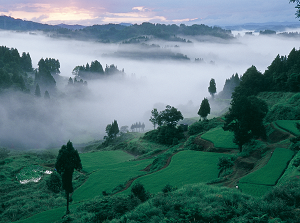 Fog around Hoshitoge Rice Terrace
Photo by Niigata Prefectural Tourist Association
From April to June, water is filled in all rice fields.
Those are like mirrors.
From early summer to autumn, rice grows and the fields look like grassland.
In the late September, the rice is harvested.
After that, water is filled in all rice fields again until early November.
In this season, fog covers the rice fields sometimes.
In any season, the scenery is good.
For visitors, there is an observatory and a parking lot near the rice terraces.
The rice fields are the private land and the farmers are working to cultivate rice.
So, you should not enter the rice terraces.
How to get here
There is no public transportation.
(Route bus is for only the people in the town.)
So, you must use a taxi from the nearest railway station or a rental car.
The nearest station is Matsudai of Hokuhoku Line of Hokuetsu Express railway.
By local train, about 30 minutes from Muikamachi to Matsudai.
To Muikamachi, about 20 minutes from Echigo-Yuzawa, about 1 hour and 10 minutes from Nagaoka, by local train of JR Joetsu Line.
Some trains go from Echigo-Yuzawa to Matsudai directly.
Hotels around Tokamachi city
Other Tourist Attractions in Niigata Prefecture