Sasagawa-nagare coast [
笹川流れ

]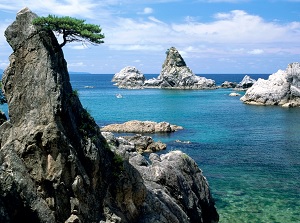 Sasagawa-nagare coast
Photo by Niigata Prefectural Tourist Association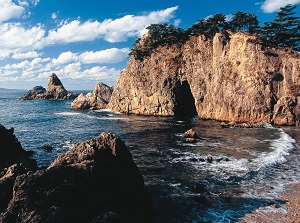 Megane-iwa rock in Sasagawa-nagare
Photo by Niigata Prefectural Tourist Association
Sasagawa-nagare is the coast to the north of Murakami city.
It is located in the the northernmost part of Niigata Prefecture, and is about 65 km northeast of Niigata city.
The coast along the Sea of Japan has many cliffs, strange rocks and caves for about 11 km.
Especiallly the water of the sea is very clear.
In addition, the view of sunset from this coast is beautiful.
"Sasagawa" is the name of the district with this coast.
"Nagare" means "flowing", and it was named after the people in Sasagawa saw the tide near the coast flowing.
JR Uetsu Line and National Route 345 run along the coast.
So we can see the view on a train or a car.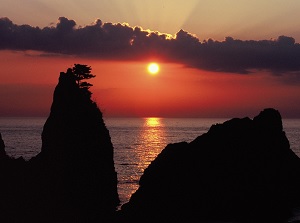 Sunset at Sasagawa-nagare coast
Photo by Niigata Prefectural Tourist Association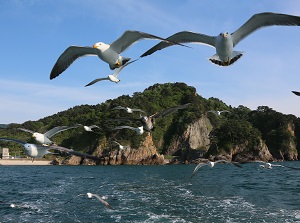 Flying sea gulls on the pleasure boat
Photo by Niigata Prefectural Tourist Association
But, it is the best to see the coast by pleasure boat.
It is operated from April to the middle of November.
It leaves from Kuwagawa port near the JR Kuwagawa station.
It takes about 40 minutes to make a tour.
On the pleasure boat, the passengers can feed flying sea gulls.
How to get here
From Niigata to Murakami, about 50 minutes by limited express, about 1 hour and 10 minutes by local train of JR Hakushin and Uetsu Lines.
Change to the local train of Uetsu Line.
From Murakami to Kuwagawa, about 20 minutes. (But it is operated every 3 hours.)
Then, about 1 km walk from Kuwagawa station to the port.
Other Tourist Attractions in Niigata Prefecture