Nagano Prefecture is located roughly in the center of Honshu island.
It is an inland prefecture, and there are many mountains and some basins.
It is one of the large prefectures.
The length from north to south is about 220 km and the width from east to west is about 130 km.
Nagano Prefecture has three large mountain ranges with many peaks as much as 2,500 to 3,200 meters high.
Along the prefecture's western border, Hida Mountain range runs.
The popular name is Northern Alps.
It is the longest and steepest among three mountain ranges.
It is similar to a big wall separating east Japan and west Japan, so there is no main route of railway and road through this mountain range.
From the center toward southwest, Kiso Mountain range runs.
The popular name is Central Alps.
Along the prefecture's southeastern border, Akaishi Mountain range runs.
The popular name is Southern Alps.
These three mountain ranges are collectively called Japanese Alps.
The mountains are steep but beautiful, so a lot of climbers visit there through all seasons.
The dividing ridge of Honshu Island runs across the prefecture, so the rivers in northern part of the prefecture flow toward Sea of Japan and the ones in southern part flow toward Pacific Ocean.
In the south part of the prefecture, Kiso River flows between Northern Alps and Central Alps, and Tenryu River flows between Central Alps and Southern Alps.
Each river forms a great valley.
These are sometimes called Kiso Valley and Ina Valley respectively.
The prefectural capital is Nagano city in the northern part of the prefecture.
In 1998, Olympic Winter Games was held here.
In Nagano Prefecture, we can enjoy the highland nature such as beautiful mountains, lakes, forests and hot springs.
The old name of Nagano Prefecture was called Shinano (信濃).
And from its reading of kanji character, it was also called Shinshû (信州).
These names are popular and are often used for this area even now.
Tourist Attractions in Nagano Prefecture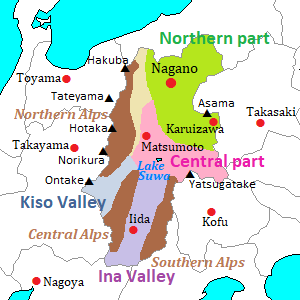 Northern part
Central part
Along Northern Alps
Along Kiso Valley
Along Ina Valley
Hotels in Nagano Prefecture
Transportation
Railway
To Nagano from Tokyo : By Hokuriku Shinkansen, about 1.5 hour.
To Matsumoto from Shinjuku (Tokyo) : By JR Chuo Line, about 2 hour and 50 minutes.
To Matsumoto from Nagoya : By JR Chuo Line, about 2 hour and 10 minutes.
To Nagano from Nagoya : By JR Chuo Line, about 3 hour.
Express bus
To Lake Nagano from Shinjuku : About 3 hour and 40 minutes
To Lake Nagano from Osaka : About 6.5 hours. About 9 hours in night bus.
Airport
Shinshu-Matsumoto airport is located about 9 km south of Matsumoto city.
It has the flights from Shin-Chitose (Sapporo) and Fukuoka.
There is no flight from Haneda in Tokyo and Itami in Osaka.
Main events in Nagano Prefecture
Nozawa Fire Festival (January 15)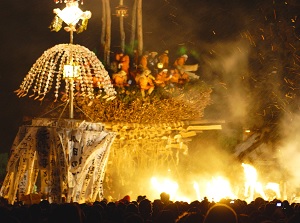 Photo by Nagano Tourism Organization
It is the festival held in Nozawa-Onsen village located at the north end of Nagano Prefecture.
In autumn, the men in the village cut down some big trees in a mountain.
The men are 25 or 42 years old, and it is said that the ages of men are climacteric in Japan.
They build a shrine with the logs speedily just a few days before.
On the day, many torches are lit, and the highlight of festival comes.
They battle between the men with torch and the men defending the shrine.
After about 2 hours, at last, they set fire to the shrine, then it burns up.
All people in the village see the fire and pray their health.
Suwa Onbashira Festival (Early April & early May)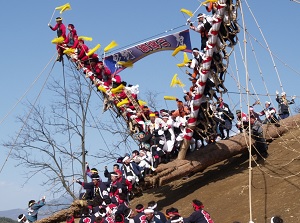 Photo by Suwa Tourism Association
It is the main festival of Suwa Shrine with four shrines, and is held every 6 years.
(The last festival was in 2016.)
Sixteen big fir trees are cut down in a mountain
In April, the logs are brought a distance of about 12 km from the mountain to the town.
Especially when they take a downhill slide, it is very exciting.
In May, the logs are brought a distance of a few kilometers to each shrine.
And four logs are set up as the sacred pillars in each shrine.
Local foods and products in Nagano Prefecture
Oyaki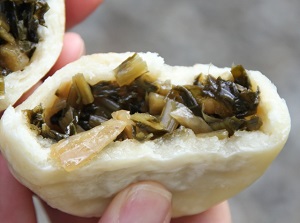 It is a Japanese dumpling made from a fermented buckwheat dough wrapped around a filling of Japanese vegetables, fruit, or "an" (sweet bean jam) and then roasted on an iron pan.
It is made across Nagano Prefecture.
Because Nagano Prefecture is very mountainous and have a cold climate, it has been a small crop of rice.
So Oyaki has been eaten as a substitute food.
Gohei-mochi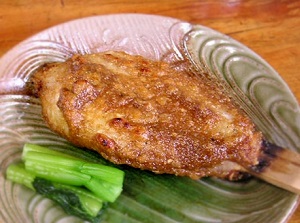 It is a skewered rice cake, and had been made in the south part of Nagano Prefecture since the 18th century.
Boiled glutinous rice is stuck on a stick.
Generally, the shape of the cake is flat oval.
And it is coated with the soy sauce with sugar, cracked walnut and sesami.
Then it is grilled.
Gohei-mochi is poplular in not only Nagano Prefecture but also Gifu Prefecture to the west and the eastern part of Aichi Prefecture to the south.
Pickled Nozawana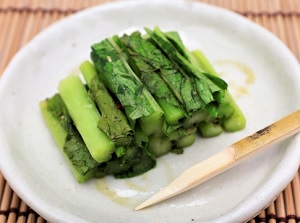 Nozawana is a Japanese leaf vegetable.
It is a cruciferous plant and its leaves are about 60 to 90 centimeters.
It is mainly cultivated around Nozawa-Onsen village.
Commonly its stems and leaves are pickled with salt.
Because it is created in a cold environment, it is fermented only a little.
So the taste is plain and the flavor is mild.
In Nozawa hot spring resort, most of hotels, ryokans, restaurants and pubs serve the pickled Nozawana.
And Oyaki filled with Nozawana pickle is popular.
Shinshu soba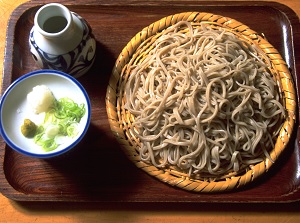 Photo by Nagano Tourism Organization
Nagano Prefecture is a cool land, so buckwheat has been cultivated from old times.
Buckwheat is mainly eaten as the form of noodle in Japan, and it is said that the method originated from Nagano Prefecture in the 17th century.
Shinshu is the old name of Nagano Prefecture, and "soba" means "buckwheat" in Japanese.
We can eat the tasty soba noodle across Nagano Prefecture.
"Shinshu soba" itself is a famous brand, so we can find its soba restaurants in Tokyo and the other cities in Japan.
Insect eating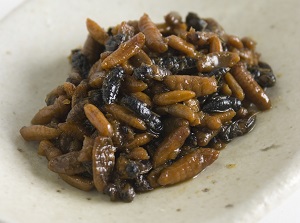 Larvae of wasp boiled with soy sauce
Photo by Nagano Tourism Organization
Nagano Prefecture has been known for insect eating.
Since old times, insects as the food have been a precious source of protein for the people living in this area.
Locusts coming in rice field can be "tsukudani" which is made by boiling them with soy sauce and sugar.
And larvae or pupae of wasp are fried or seasoned with soy sauce.
They are often cooked with rice.
When we eat them, we can't avoid seeing the original shape of the insects.
It may need a bit of courage to eat them. (Of course, even most Japanese need the courage...)