Fukushimagata lagoon [
福島潟

]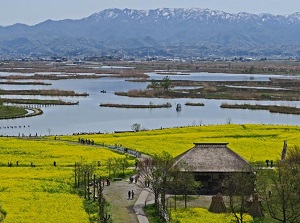 Fukushimagata in spring
©Niigata Visitors & Convention Bureau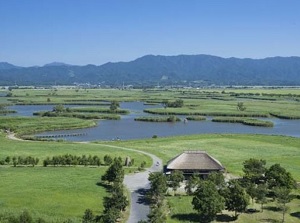 Fukushimagata in summer
©Niigata Visitors & Convention Bureau
Fukushimagata is a lagoon in the plain including Niigata city.
It is located about 17 km east of the center of Niigata city.
Many small rivers flow around the plain and the lagoon is formed at this area.
The lagoon stretches 2 kilometers from east to west and 1 kilometers from north to south.
Its total area is 262 hectares.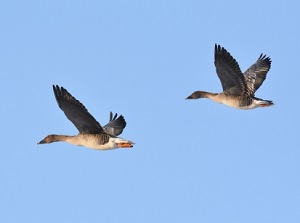 Bean geese in Fukushimagata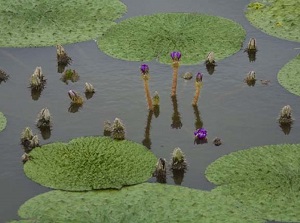 Gorgon plant in Fukushimagata
©Niigata Visitors & Convention Bureau
More than 200 kinds of wild birds have been recognized in this lagoon.
Especially, a kind of "bean goose" spends the winter at Fukushimagata.
It comes from Kamchatka, and spends in this lagoon from October to March.
"Bean goose" is one of endangered species, and Fukushimagata has the largest number of flying in Japan.
Over 450 kinds of plants grow wildly in Fukushimagata.
Particularly, gorgon plant and a few rare plants are the northernmost in Japan.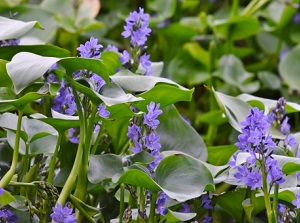 Endangered Monochoria korsakowii
("Mizu-aoi" in Japanese) in Fukushimagata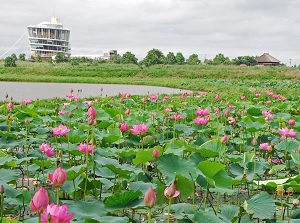 View Fukushimagata
Photo by Niigata Prefectural Tourist Association
There is the observation facility, View Fukushimagata at the northwest edge of the lagoon.
And, the area around the facility is a water park.
How to get here
By local train of JR Hakushin Line, about 22 minutes from Niigata to Toyosaka.
Then, about 2.5 km walk from Toyosaka station. (40 minutes)
Hotels in Niigata city
Other Tourist Attractions in Niigata Prefecture