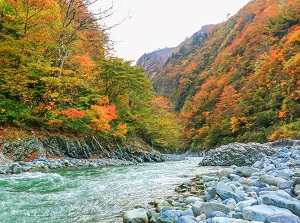 Kiyotsukyo
Photo by Niigata Prefectural Tourist Association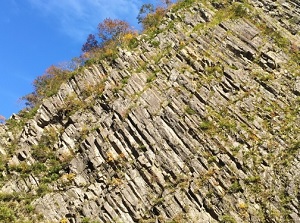 Columnar joint of Kiyotsukyo
Kiyotsukyo is a gorge located about 6 km northwest of Echigo-Yuzawa town.
But, because there are mountains between Kiyotsukyo and Echigo-Yuzawa town, we have to take a detour to visit the gorge.
The gorge is in a narrow valley formed by Kiyotsu River, and the length is about 12 km.
The walls of the cliff are formed with numerous column-shaped rocks called "columnar joint".
Magma in the ground rose 5 million years ago.
The magma was cooled, and columnar joint was formed.
Then the river had eroded the rocks for a long period of time.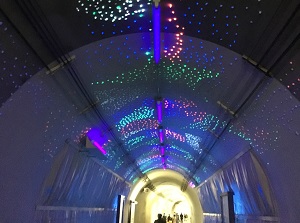 Tunnel for visitors in Kiyotsukyo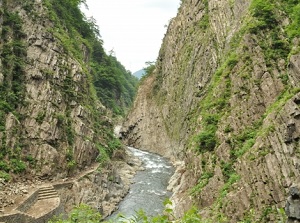 Kiyotsukyo
For the visitors, a tunnel 750 meters long is set up.
There are three observetories to see the gorge in the tunnel.
It is closed from January to March.
How to get here
From Tokyo, by Joetsu-Shinkansen, about 1 hour and 10 to 35 minutes.
By route bus, about 25 minutes from Echigo-Yuzawa station to Kiyotsukyo-iriguchi stop.
From there, about 2 km walk along Kiyotsu River.
Hotels around Echigo-Yuzawa
Other Tourist Attractions in Niigata Prefecture