Togenuki Jizou (Koganji temple) [
とげぬき地蔵 (高岩寺)

]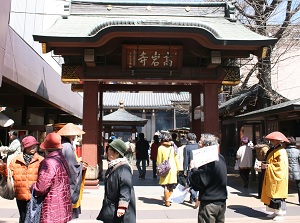 Entrance of Koganji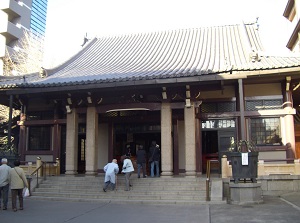 Main hall of Koganji
Koganji is a Zen temple for Soto sect which is a Japanese Zen-Buddhist sect.
It is located about 0.4 km northwest of JR Sugamo station on Yamanote Line.
The nickname Togenuki Jizou is better known in many people.
"Togenuki Jizou" means "deity drawing a thorn".
In 1713, a samurai's wife was deadly sick, so he had been praying for her recovery to Jizo deity.
One day, he received a revelation from Jizou deity in a dream.
In accordance with the revelation, he drew 10,000 pictures of Jizou and floated them down a river.
Then his wife was cured of a disease.
After that, he gave his pictures to his aquaintance by the request.
And when a female servant of the aquaintance drank a thorn by mistake, he made her drink his picture.
Then she could expel the thorn.
The samurai enshrined his pictures to a temple in Kanda area in 1728.
This is the origin of this temple.
The nickname of "togenuki" came from this story.
The temple moved to current Sugamo area in 1891.
The temple was destroyed by Great Tokyo Air Raids in 1945, but it was rebuilt in 1957.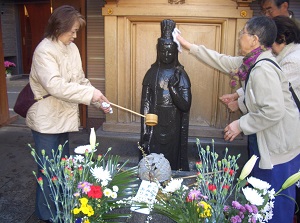 Statue of Kannon in Koganji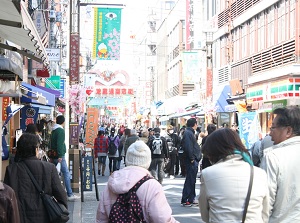 Sugamo Jizou Street (Grandma's Harajuku)
When we go and worship at this temple, we can get the small picture.
It is said that the picture cure you by sticking it on your sore place.
Additionally, there is a small statue of the Goddess of Kannon in the precincts.
It is said that the Goddess cure you by washing the part of your sore place on the statue with water.
There is a shopping street from the temple to the Koshinzuka stop of Toei Streetcar located about 600 meters northwest of the temple.
Most of visitors to the temple are old people, and female visitors is more than male.
So the street is always full with old people.
Therefore, it is often called Grandma's Harajuku.
How to get here
About 5 minutes walk from JR Sugamo station of JR Yamanote line.
About 7 minutes walk from JR Kami-Nakazato station of JR Keihin-Tohoku line.
Nearest stations of subway.
Sugamo (●I15 Mita Line)
Hotels around Sugamo
Other Tourist Attractions in Tokyo Metropolis (Special Wards)