Kyu-Furukawa Gardens [
旧古河庭園

]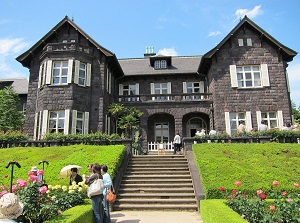 Residence in Kyu-Furukawa Gardens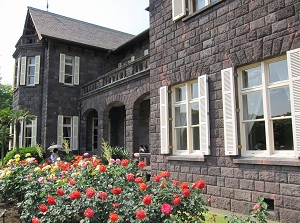 Around the residence
Kyu-Furukawa Gardens is located about 0.7 km north of JR Komagome station.
It is positioned about 1 km north of Rikugien garden.
Here was the residence of Mutsu Munemitsu (1844-1897) who had served as the foreign minister in the 1890s.
After that, the owner of the residence had moved to Furukawa financial combine.
Then current Western-style residence and gardens were built in 1917.
After World War II, it had been condemned by the allied forces.
Then after it returned to Japan in 1952, it was opened to the public as a park in 1956.
This gardens are at the edge of a terrace.
The residence is built on the terrace, the Western-style rose garden is on the slope, and the Japanese garden is at the foot of the slope.
The residence is Western-style.
The ground floor rooms are also western-style, but the second floor rooms are mostly in Japanese style.
We can't see the inside, but the guided tours are held three times a day.
But you need to make a reservation in advance.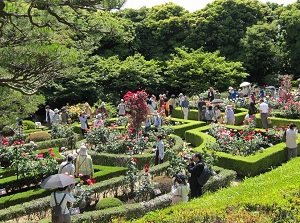 Rose garden in Kyu-Furukawa Gardens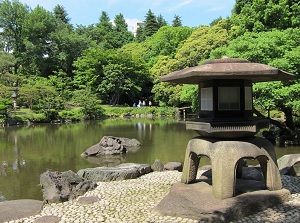 Japanese garden in Kyu-Furukawa Gardens
The rose garden has about 100 kinds of rose.
The beast season is from the middle opf May to June and from the middle of October to November.
This gardens are open every day except from December 29 to January 1.
How to get here
About 12 minutes walk from JR Komagome station of JR Yamanote line.
About 7 minutes walk from JR Kami-Nakazato station of JR Keihin-Tohoku line.
Nearest stations of subway.
Komagome (●N14 Nanboku Line, ●E06 Ooedo Line)
Nishigahara (●N15 Nanboku Line)
Hotels around Bunkyo Ward
Other Tourist Attractions in Tokyo Metropolis (Special Wards)