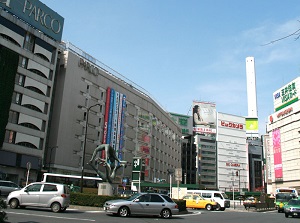 East side of Ikebukuro station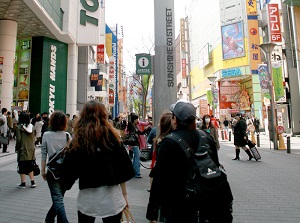 Street to Sunshine 60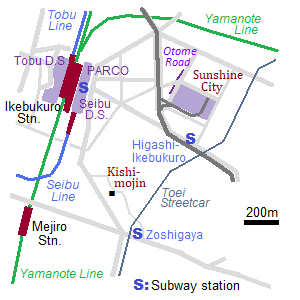 1) Sunshine City 2) Otome Road
3) Kishimojin temple
Ikebukuro is one of the subcenters of Tokyo.
It is located 4.5 km north of Shinjuku.
Ikebukuro station is the center of this area.
It is the junction of JR Yamanote and Saikyo Lines, and the terminal stations of Seibu Line and Tobu Tojo Line are also there.
So, more than 2.7 million people a day use this station, and it ranks second after Shinjuku station in Japan.
The downtown Ikebukuro is relatively narrower area than Shinjuku or Shibuya, and the residental areas spread around the downtown.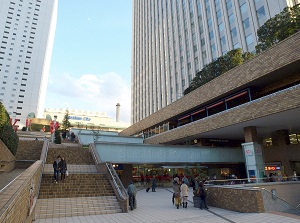 Sunshine City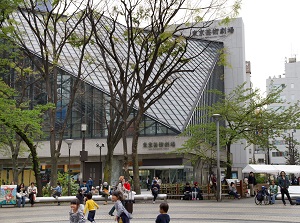 Tokyo Metropolitan Art Space
On the east side of Ikebukuro station, there are the department stores such as Seibu and PARCO, and the shopping area extends to the east.
And there is the large building complex Sunshine City at about 0.5 km east of the station.
On the west side of the station, there is the big "Tobu Department Store" which has the largest food floor and much restaurants in Tokyo.
And near the station, there are a concert hall "Tokyo Metropolitan Art Space" and other small theaters.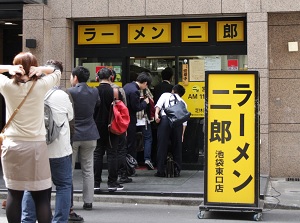 Popular ramen restaurant in Ikebukuro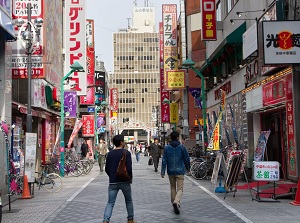 A street in Ikebukuro
These shopping area is the competitive market of ramen restaurants and Kaiten-zushi (belt-conveyor sushi restaurant).
They are sometimes featured in magazines, so we can find some restaurants that the visitors are waiting in a queue.
Through the east part of Ikebukuro area, the line of streetcar (Toden) runs.
It is the only line in Tokyo.
It runs through the residental area but there are few sightseeing.
Sunshine City (
サンシャインシティ

)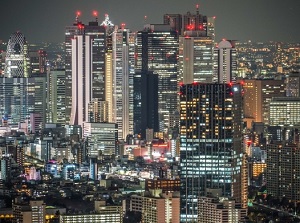 Night view from Sunshine 60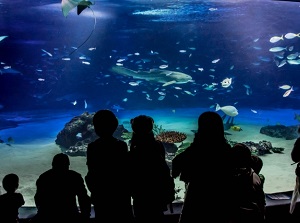 Sunshine Aquarium
Sunshine City is a building complex located 0.5 km east of Ikebukuro station.
The main building is Sunshine 60 which has 60 stories.
It is about 240 meters tall, and some other buildings and an underground mall are attached to it.
On the 60th floor in Sunshine 60, there is the unique observatory room.
It is named as Sky Circus, and is a theme park that we can experience interesting sense of vision using the scenery of the observatory and the technology of virtual reality.
There is the building World Import Mart next to Sunshine 60.
In the building, there are Sunshine Aquarium, Konica Minolta Planetarium "Manten".
And there is a theme park Namjatown in this building.
Otome Road (
乙女ロード

)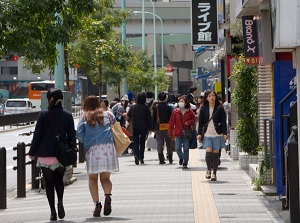 Otome Road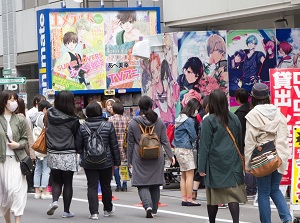 Girls in Otome Road
Otome Road is the street with the anime or manga shops for girls and ladies.
It is located on the west side of Sunshine City.
"Otome" means "maiden".
There are several shops along the street, and they sell books, DVDs and other goods of anime or manga.
Of course, most of visitors are girls or young ladies, but recently male visitors are increasing.
Unlike Akihabara, it looks like an ordinary shop street, and we find few cosplaying people.
There are some "Maid cafes" in Akihabara, but here are some "Butler cafes".
Cosplaying male "butlers" serve the princesses (you !) very respectfully.
Kishimojin temple (
鬼子母神堂

)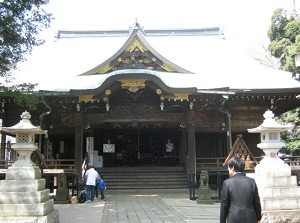 Kishimojin temple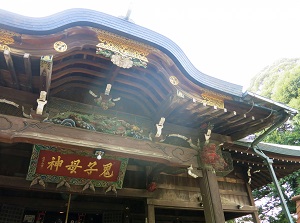 Kanji characters of Kishimojin
Kishimojin is a Buddhist temple and is located about 0.8 km south of Ikebukuro station.
"Kishimojin" (or "Kishibojin") is the goddess of the guardian deity of children and easy delivery of baby.
It is said that a samurai found a statue of Kishimojin in a well and he enshrined here.
Then, this temple was founded in 1578, and the main building was built in 1664.
It is designated as an important cultural asset.
How to get here
JR Ikebukuro station.
About 9 minutes from Shinjuku, about 24 minutes from Tokyo by JR lines.
Nearest stations of subway.
Ikebukuro (●M25 Marunouchi Line, ●Y09 Yurakucho Line, ●F09 Fukutoshin Line)
Higashi-Ikebukuro (●Y10 Yurakucho Line)
Zoshigaya (●F10 Fukutoshin Line)
Hotels around Ikebukuro
Other Tourist Attractions in Tokyo Metropolis (Special Wards)