Koishikawa Korakuen [
小石川後楽園

]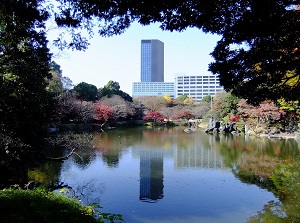 Koishikawa Korakuen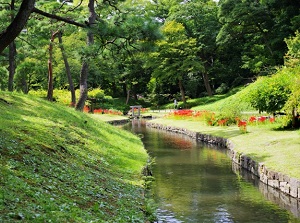 A stream in Koishikawa Korakuen
Koishikawa Korakuen is a Japanese garden.
A vowel "o" in "Korakuen" is pronounced long, so it is read as "Koishikawa Kôrakuen".
It is located just northeast of JR Iidabashi station or northwest of JR Suidobashi station.
Tokugawa Yorifusa (1603-1661) was the first lord of Mito Domain (current Mito city) and there was the principle residence of Mito Domain for working in Edo Castle in Koishikwa area.
Yorifusa constructed this garden in the residence in 1629.
It has an area of more than 7 hactares
There are a large pond and some small ponds with islands and rocks, additionally there are a few streams, small hills, and rice fields.
And many trees covers the whole garden.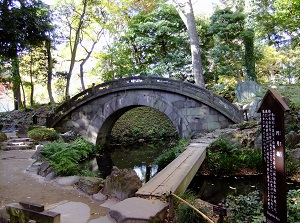 A stone bridge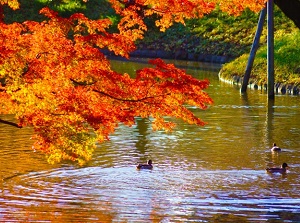 Koishikawa Korakuen in autumn
When this garden was rebuilt by Tokugawa Mitsukuni (1628-1701), the second lord, he got the opinions of Zhu Shunshui (1600-1682), who was a Chinese scholar of Confucianism and immigrated to Japan in 1660.
Therefore, this garden involves elements of Chinese Confucianism.
This garden is open every day except from December 29 to January 1.
And, the guided tour in English is held at 10:00 on Saturday.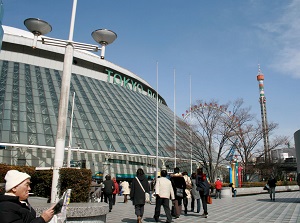 Tokyo Dome studium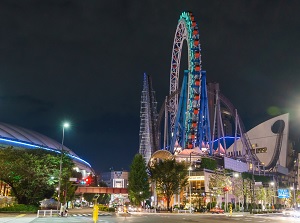 Amusement park of Tokyo Dome City
At just east of this garden, there is Tokyo Dome which is the Japan's first domed baseball stadium.
Around the studium, there are an amusement park, a hotel and other resort facilities, so they form a resort town named Tokyo Dome City.
How to get here
JR Iidabashi station. About 6 minutes from Akihabara, about 11 minutes from Shinjuku by JR lines.
Or, JR Suidobashi station. About 4 minutes from Akihabara, about 12 minutes from Shinjuku by JR lines.
Nearest stations of subway.
Iidabashi (●T06 Tozai Line, ●Y13 Yurakucho Line, ●N10 Nanboku Line, ●E06 Ooedo Line)
Korakuen (●M22 Marunouchi Line, ●N11 Nanboku Line)
Suidobashi (●I11 Mita Line)
Hotels around Iidabashi
Other Tourist Attractions in Tokyo Metropolis (Special Wards)