Entrance gate of Rikugien and cherry blossoms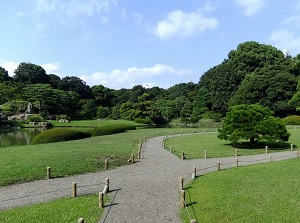 Rikugien
Rikugien is a Japanese garden.
It is located south of JR Komagome station, and is the north part of central Tokyo area.
It was built by Yanagisawa Yoshiyasu (1658-1714), who was an aide of Shogun.
He was given this area from Shogun in 1695, then he built this garden here.
He wanted to express the world of the Japanese poems created in the 10th century.
Then this garden was completed in 1702.
It was donated to Tokyo Metropolitan Government in 1938, then it has been opened to the public since that.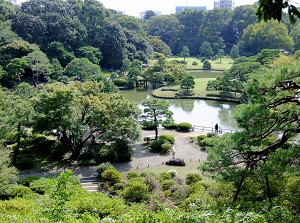 Rikugien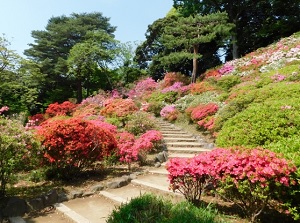 Azelea in Rikugien
It has an area of about 2.9 hactares.
There are a large pond with an islands, additionally there are a few streams and small hills.
Cherry blossoms in spring and autumn color of leaves are beautiful, and additionally here is famous for azalea.
This garden is open every day except from December 29 to January 1.
And, the guided tour in English is held at 11:00 and 14:00 on the 1st and 3rd Sunday.
How to get here
JR Komagome station. About 17 minutes from Tokyo, about 15 minutes from Shinjuku by JR Yamanote line.
Nearest stations of subway.
Komagome (●N14 Nanboku Line, ●E06 Ooedo Line)
Hotels around Bunkyo Ward
Other Tourist Attractions in Tokyo Metropolis (Special Wards)