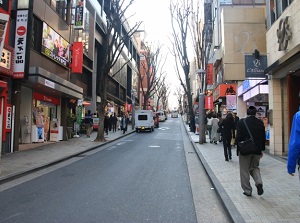 Kagurazaka street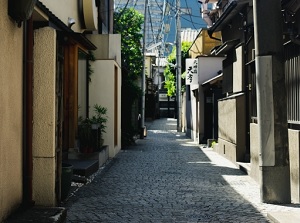 Stone pavement in Kagurazaka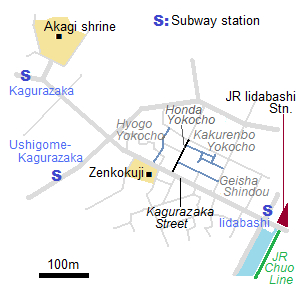 Kagurazaka is a town located northwest of JR Iidabashi station.
It is located in the nearly center of JR Yamanote loop line.
In this district, there were many samurai's residences in Edo Period (the 17th to 19th centuries).
And several temples were built, and many Geisha girls also had gathered here.
In Meiji Period (the late 19th century), smart men and novelists had visited here.
There were about 700 Geisha girls here at the peak, but there are only 30 girls now.
From near the south exit of JR Iidabashi, Kagurazaka street extends to the west-northwest.
It is the main street of Kagurazaka district, and it is a gentle upslope.
There are many shops along the street.
This street is free of vehicle on Sunday and national holiday.
And it is also free of vehicle from 12:00 to 13:00 on weekdays.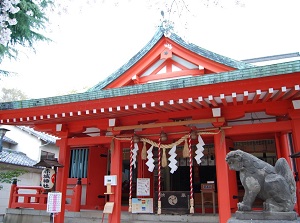 Akagi shrine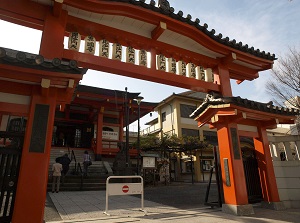 Zenkokuji temple
The length of the street is about 700 meters, and there is Akagi shrine (赤城神社) around the end of the street.
It was established in 1300.
In the 17th century, this shrine was designated as one of main shrines in Edo city by Shogun of Edo government.
Current buildings were rebuilt in 2010.
There is Zenkokuji temple (善国寺) at the midpoint of the street.
It was established in 1595.
And it has been familiar to the people in this district by the name of "Bishamonten".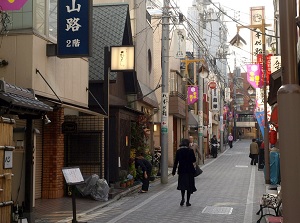 Honda Yokocho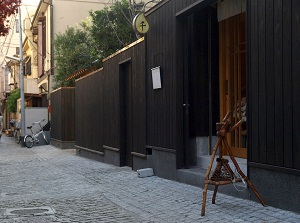 Kakurenbo-Yokocho
The areas on th both sides of the street have narrow and bendy alleys with slopes.
In this areas, many high-class Japanese-style restaurants are dotted.
Of course, you can enjoy the dinner there. (But, Expensive!) In addition, there is the course that the visitors are entertained with Geisha girls. (More expensive!)
Therefore, when you walk around here, you may find any Geisha girls by any chance.
Such restaurants are in the northern side of Kagurazaka street.
They face the narrow alleys.
The main alley is Honda Yokocho (本多横丁).
It is relatively wide, and there are many shops and restaurants along the alley.
More popular alleys are Geisha Shindou (芸者新道), Kakurenbo Yokocho (かくれんぼ横丁) and Hyogo Yokocho (兵庫横丁).
However, there are an institute of French language around here, then we can find Frenchmen sometimes.
So there are also some restaurants of the world's cuisines in this area.
Some say that Kagurazaka area looks like Montmartre in Paris city.
How to get here
JR Iidabashi station. About 6 minutes from Akihabara, about 11 minutes from Shinjuku by JR lines.
Nearest stations of subway.
Iidabashi (●T06 Tozai Line, ●Y13 Yurakucho Line, ●N10 Nanboku Line, ●E06 Ooedo Line)
Kagurazaka (●T05 Tozai Line)
Ushigome-Kagurazaka (●E05 Ooedo Line)
Other Tourist Attractions in Tokyo Metropolis (Special Wards)