Kanda & Ochanomizu [
神田, 御茶の水

]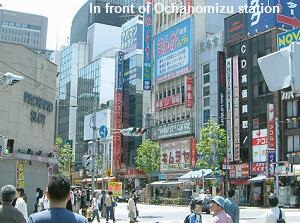 In front of Ochanomizu station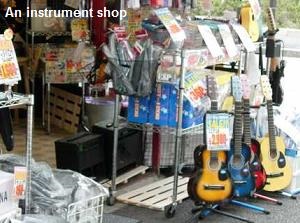 An instrumental shop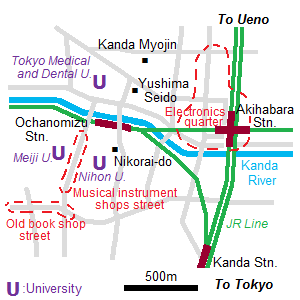 Kanda area is wide, and it contains not only the area around JR Kanda station but also Ochanomizu and Akihabara stations.
It is the area to the north of the Imperial Palace and Tokyo station.
There are many towns bearing the name "Kanda" in this area.
Around Ochanomizu station there are some unversities, collages and other schools.
So this area has the streets for student's life.
Along the downhill Meidai Street from Ochanomizu station, there are many musical instruments shops. ("Meidai" is an abbreviation for "Meiji University".)
There are more than 30 shops.
It is said that foreign major musicians sometimes visit here.
From the 1910s to 1920s, a few Japan's first orchestras were established in Tokyo.
And dance halls around Ginza became popular in the 1930s.
Therefore, many shops for Western musical instruments were opened in this area.
So, a few shops have over 80 years of history.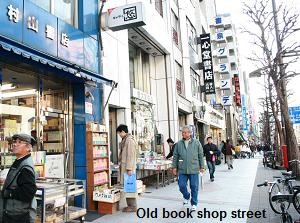 Old book shop street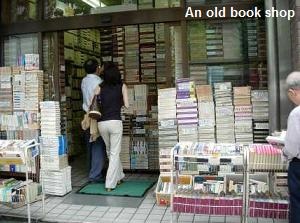 An old book shop
When we reach Yasukuni Street after 500-meter walk, we can see many book shops along the street.
There are about 200 book shops, and more than half of them are antiquarian bookshops.
When some universities were established in the 1880s, the book shops for the students were opened one after another.
And many publishing companies are also in this district.
How to get here
Get off at Ochanomizu station of JR Chuo and Sobu Lines.
Nearest stations of subway.
Ochanomizu (●M20 Marunouchi Line) [North of JR station]
Jinbocho (●Z07 Hanzomon Line, ●I10 Mita Line, ●S06 Shinjuku Line) [Near books street]

Hotels around Ochanomizu
Other Tourist Attractions in Tokyo Metropolis (Special Wards)