Kanda Myojin shrine [
神田明神

]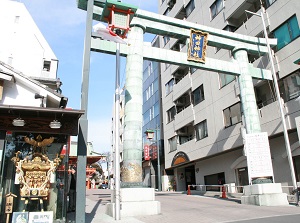 Entrance gate of Kanda Myojin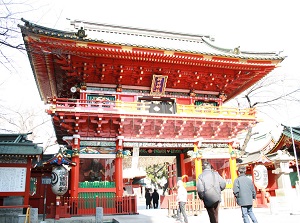 Zuishinmon gate built in 1975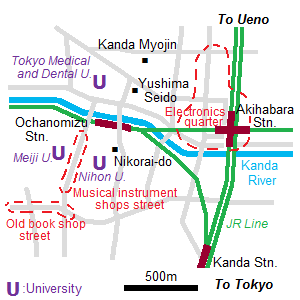 Kanda Myojin is a Shinto shrine located 0.4 km northeast of JR Ochanomizu station.
The vowel "o" is pronounced long, so it is read as "Kanda Myôjin".
The formal name is "Kanda-jinja", and this is the head shrine of 108 towns such as Kanda, Akihabara, Nihonbashi, Marunouchi and Tsukiji areas.
The shrine is regarded as the guardian deity of Tokyo.
It is said that it was established in 730.
At that time, there was the rice field for Ise-jingu shrine which is in Mie Prefecture and is the head shrine of Japan.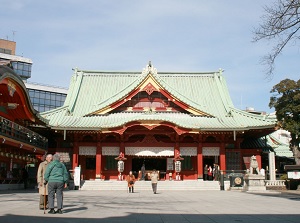 Main shrine of Kanda Myojin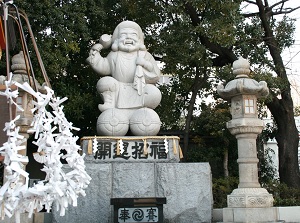 Stone statue of Daikoku
The main buildings were built in early 17th century.
It is said that they were very luxurious at that time.
But the buildings were destroyed by the fire just after the Great Kanto Earthquake in 1923.
The current buildings were rebuilt after that.
They are painted red, and have brilliant golden ornaments.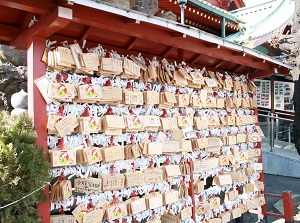 Ema (Votive horse tablets)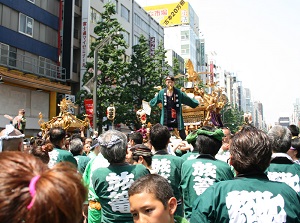 Kanda Festival
Since Edo period (the 17th to 19th centuries), the festivel of this shrine (Kanda Festival) has been held in May.
Many people carry a mikoshi (portable shrine) with spirited call.
It is said that over 200 mikoshi are carried in the festival, so the festival is really an exciting time.
It alternates between "Main Festival" (in odd year) and "Sub Festival" (in even year) every year.
How to get here
Get off at Ochanomizu station of JR Chuo and Sobu Lines.
Nearest stations of subway.
Ochanomizu (●M20 Marunouchi Line)
Shin-Ochanomizu (●C12 Chiyoda Line)
Hotels around Ochanomizu
Other Tourist Attractions in Tokyo Metropolis (Special Wards)