Nikorai-do (Holy Resurrection Cathedral) [
ニコライ堂

]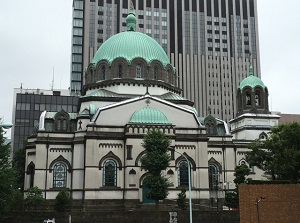 Nikorai-do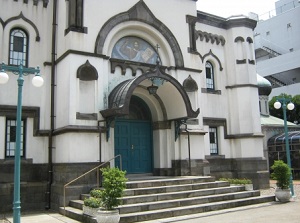 Entrance of Nikorai-do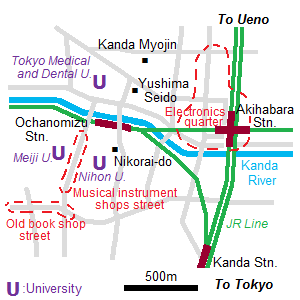 Nikorai-do is the main cathedral of the Japanese Orthodox Church, and the formal name is Holy Resurrection Cathedral.
It is located about 150 meters south of JR Ochanomizu station.
The Japanese Orthodox Church originates from the mission in Hakodate in Hokkaido by Saint Nicholas (1836-1912) in 1868.
He was a Russian Orthodox priest and saint.
His real name was Ivan Dimitrovich Kasatkin.
He wanted to missionize in Tokyo, so he came here in 1872.
And he completed this cathedral in 1891 after 7 years of its construction.
Since the completion, it was called "Nikorai-do" after the constructor.
("Nikorai" is the Russian name of "Nicholas" and "do" means "temple".)
The buildings was built with Byzantine style.
The original cathedral was seriously damaged in the Great Kanto earthquake in 1923, but it was rebuilt in 1929.
It was restored from 1992 to 2000, then espacially we can see the beautiful iconostases and wall paintings in the cathedral.
You can visit the cathedral from 13:00 to 16:00 (From October to March, 13:00 to 15:30).
How to get here
Get off at Ochanomizu station of JR Chuo and Sobu Lines.
Nearest stations of subway.
Shin-Ochanomizu (●C12 Chiyoda Line)

Hotels around Ochanomizu
Other Tourist Attractions in Tokyo Metropolis (Special Wards)