Former Yasuda Garden, Japanese Sword Museum [
旧安田庭園, 刀剣博物館

]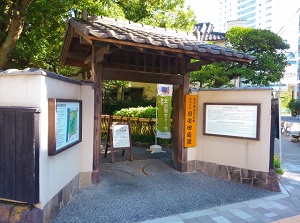 Entrance of Former Yasuda Garden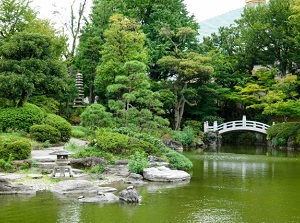 Pond in Former Yasuda Garden
Former Yasuda Garden is a Japanese garden.
It is located just north of Ryogoku Kokugikan arena and faces Sumida River.
The garden was constructerd as the garden in a suburban residence of feudal lord in the early 19th century.
In the 1850s, the ponds was redevelopd to bring the water of Sumida River.
Then, Yasuda Zaibatsu (a big company syndicate in Japan) bought this garden in the 1880s.
Yasuda donated the garden to Tokyu city in 1922.
But, the Great Kanto Earthquake occurred next year and the garden had been destroyed.
Tokyo city restored the garden and was open to the public in 1927.
The site is roughly square with about 100 meters per side, and there is a large pond in the site.
A walking trail is set up around the pond, and a few bridges and stone lanterns are dotted around the pond.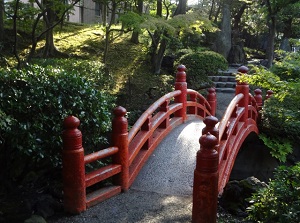 Bridge in Former Yasuda Garden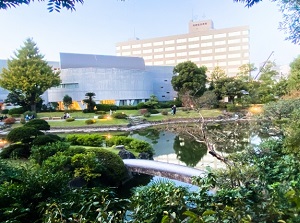 Japanese Sword Museum in Former Yasuda Garden
Japanese Sword Museum
There is the Japanese Sword Museum (刀剣博物館) in the site of Former Yasuda Garden.
The museum was opened in 1968, and it moved to current building in 2018.
It houses about 190 items of Japanese sword, quipment of sword, Japanese armor, etc.
Many works are designated as National Treasures or Important Cultural Properties, and they were made from around the 10th century to the 14th century.
In addition, the entrance is outside of Former Yasuda Garden.
How to get here
Ryogoku station (JR Sobu Line)
Nearest stations of subway.
Ryogoku (●E12 Ooedo Line)
Hotels around Sumida Ward
Other Tourist Attractions in Tokyo Metropolis (Special Wards)