Ryogoku Kokugikan arena [
両国国技館

]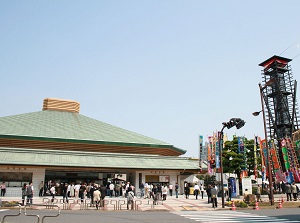 Ryogoku Kokugikan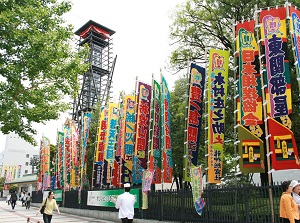 Banners of top wrestler's name
setting up during the tournament
Ryogoku Kokugikan is the arena for Sumo wrestling which is Japan's national sport.
It is located just north of JR Ryogoku station, and Sumida River flows on the west side of the arena.
"Kokugi" means "national sport" and "kan" means "a facility".
Sumo is a national sports of Japan.
So the arena is often called "Kokugikan" simply.
This arena has been used since 1985, and has more than 11 thousand seats.
Before that, the makeshift arena in Kuramae area across Sumida River had been used for more than 30 years.
Now the Grand Sumo Tournament for 15 days is held here three times a year in January, May and September.
(The tournament is held in Osaka in March, in Nagoya in July, and in Fukuoka in November.)
While the Grand Sumo Tournament is held, colorful strong wrestler's banners are decked around the arena, so we are enhanced the mood.
About Sumo, please check this page.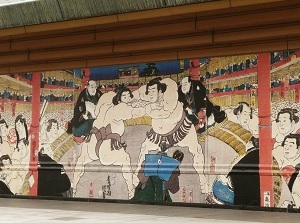 Ukiyoe Painting of Sumo in Edo Period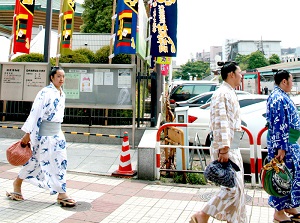 Young sumo wrestlers walking around arena
Sometimes amateur Sumo tournaments are held, and the arena is also used for professional wrestling, boxing or concert.
There is the Sumo Museum (相撲博物館) in the arena.
Because the museum is not large, it is not permanent exhibitions but the exhibitions by a theme.
When Grand Sumo Tournament or ant event is not held, we can visit this museum for free.
(But it is closed mainly on Saturday, Sunday and Japanese national holiday.)
In addition, guided tour of this arena is not held.
How to get here
Ryogoku station (JR Sobu Line)
Nearest stations of subway.
Ryogoku (●E12 Ooedo Line)
Other Tourist Attractions in Tokyo Metropolis (Special Wards)