Kappabashi kitchen town [
かっぱ橋道具街

]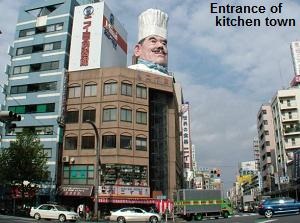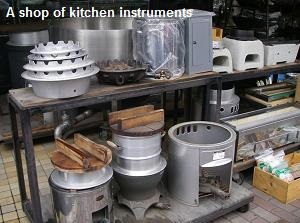 Kappabashi kitchen town is a town with many shops selling cookwares and kitchen instruments.
The street is located about 700 meters west of Asakusa area.
It runs from north to south.
The south end is Asakusa Street and the north end is Kototoi Street, and the length is about 800 meters.
About 170 shops line along the street.
They deal with items in every conceivable category cookwares and kitchen instruments.
They sell even the signs and decorations for restaurant.
Therefore, even professional cooks visit here.
Of course, you can buy the products.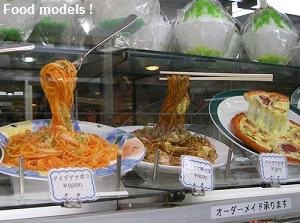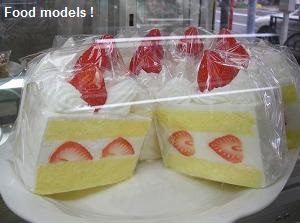 There are some shops selling food models to display at the restaurants.
Most tourists visit there and get some goods as their souvenir.
Food model was invented in Japan in early 20th century.
They are made of plastic resin or wax, and the works are authentic-looking.
And each work is made by hand.
Most foreign visitors are amazed at its sophistication.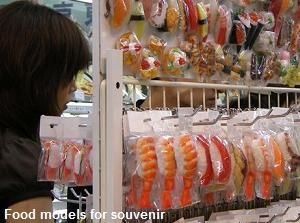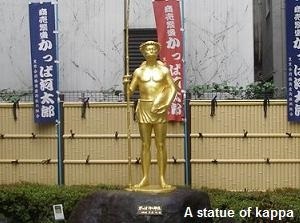 "Kappa" is one of Japanese imaginary animal.
It is said that Kappa lives in rivers and sometimes does mischief to humans.
The meaning of "Kappa" in "Kappabashi" is different from original "kappa", but it is used as the official mascot of the town because the pronunciation is the same.
How to get here
Nearest stations of subway.
Tawaramachi (●G18 Ginza Line), About 5 minutes walk from the station.
Other Tourist Attractions in Tokyo Metropolis (Special Wards)