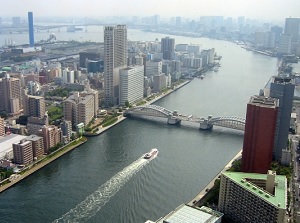 Tokyo Skytree and Sumida River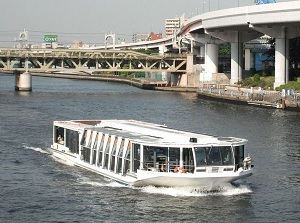 Cruising boat on Sumida River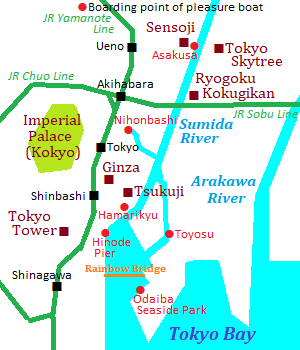 Map around Sumida River
Sumida River is a branch river of Arakawa River flowing through Saitama Prefecture and Tokyo Metropolis.
It flows from north to south through the northeast part of central Tokyo and into Tokyo Bay.
The width of the river is 150 to 200 meters and the water flows slowly.
Because it flows through the urban area, the water is not clear.
Sumida River flows near the popular spots such as Asakusa, Ryogoku and Tsukiji.
And there is Odaiba area near the river mouth.
So pleasure boats (Tokyo Cruise Ship) are operated between Asakusa and Hinode Pier facing Tokyo Bay.
They stop by at Hamarikyu Gardens.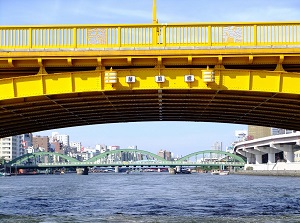 Passing under the bridges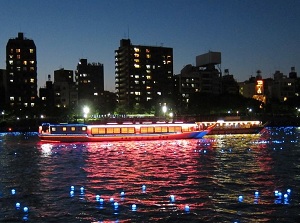 Cruising boats in the evening
There are many bridges across the river, and the pleasure boats pass under the bridges.
Each bridge has a different form.
We can enjoy the boat tour for about 40 minutes from Asakusa to Hinode Pier, or for 35 minutes from Asakusa to Hamarikyu Gardens.
(We can tour in the opposite direction.)
And some other cruising companies operate various ships.
You can use them.
On the last Saturday in July, Sumidagawa Fireworks Festival are held around Sumida River near Asakusa.
It is one of the major fireworks festival in Tokyo, and 20 thousand fireworks are set off from around 19:00 to 20:30.
Other Tourist Attractions in Tokyo Metropolis (Special Wards)