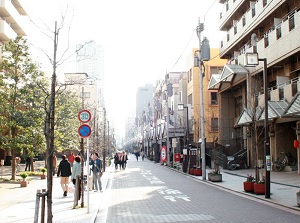 Monja Street in Tsukishima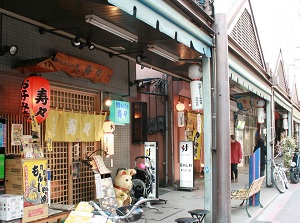 Restaurants in Monja Street
Tsukishima is the area on the left bank of Sumida River.
It is located about 1.7 km southeast of Ginza.
This area is a reclamation site created in 1892, and we can feel the atmosphare of old town.
The popular speciality of this area is Monja-yaki.
Monja-yaki is the original form of current "okonomiyaki" or "takoyaki".
It is known that monja-yaki was eaten in Edo in the early 19th century.
In the early 20th century, there were many factories and warehouses and many workers had living in Tsukishima area.
For the children of the workers, there were many mom-and-pop candy stores in this area.
Monja-yaki was a children's snack served in such stores.
The factories and warehouses have decreased but the restaurants of Monja-yaki remain in a changed style of restaurant.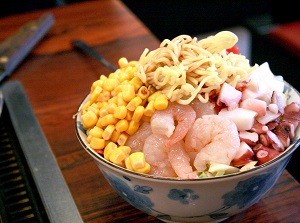 (1) Ingredients for Monja-yaki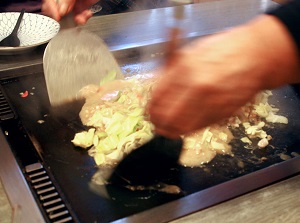 (2) Fry the ingredients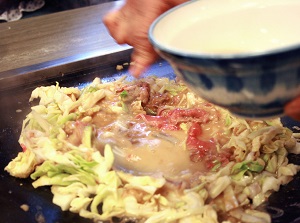 (3) Pour the soup into the central space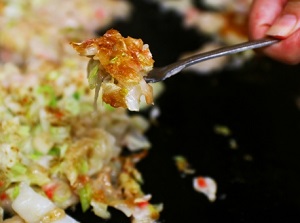 (4) Eat the Monja-yaki
First, fry up chopped cabbage and other ingredients on a pan.
And gather them into a doughnut shape on the pan.
Then, pour the soup containing a little flour into the central space.
After the soup has thickened, mix them with a paddle and eat.
It is tasty to burn very slightly.
More than 70 restaurants of Minja-yaki are around Nishinaka Street along its 500-meter length.
Another name of the street is "Monja Street".
How to get here
Nearest stations of subway.
Tsukishima (●Y21 Yurakucho Line, ●E16 Ooedo Line)
Hotels around Tsukishima
Other Tourist Attractions in Tokyo Metropolis (Special Wards)