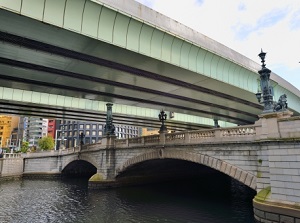 Nihonbashi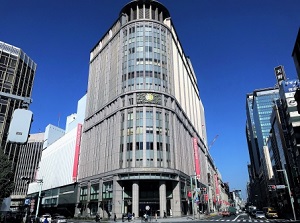 Mitsukoshi department store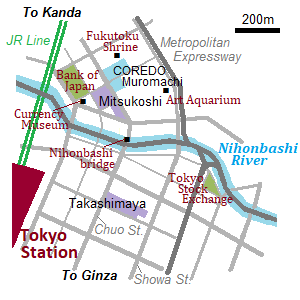 Nihonbashi is the eastern and northeastern area of Tokyo station.
Nihonbashi River flows through this area from northwest to southeast.
A bridge crosses over the river in the center of the area, and the name of bridge is "Nihonbashi".
In 1604, Edo government determined that the starting point of five main roads in Japan was placed on this bridge. (Of course, it was a wooden bridge at that time.)
Even now, seven National Routes start from here.
Because this town became the important place in traffic, a lot of people came from all over the country, then Edo became the big city, as the result.
Especially, many merchants had stores and businesses in Nihonbashi area and they traded in the products from all over the country.
And fresh fishes caught in Tokyo Bay were also carried through Nihonbashi River.
After Tokyo became the capital of Japan in 1868, Bank of Japan (Japan's central bank) and Tokyo Stock Exchange were established in this area.
So Nihonbashi is the financial center of Japan.
Even now, old and established department stores and many various stores are in this area.
Mitsukoshi department store was established in the 17th century and Takashimaya department store came here from Osaka in the early 20th century.
Both buildings built in the 1930s are designated as national important cultural properties.
In addition, there is new commercial complex COREDO Muromachi.
Some traditional shops and restaurants are in the buildings.
Nihonbashi bridge (
日本橋

)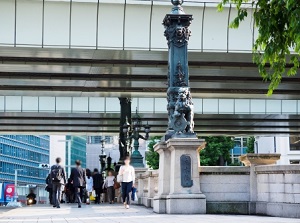 Nihonbashi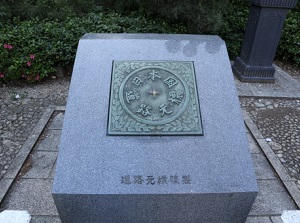 Monument of the starting point of the roads
It is the bridge symbolizing Nihonbashi area and crosses over Nihonbashi River.
"Nihonbashi" means "Japan's bridge".
It is a stone bridge about 49 meters long, and it was built in 1911.
The first bridge was built in 1603, and it is said that it was a simple bridge of only two woods.
Since that, the bridge was rebuilt 19 times.
On the parapets, there are the statues of imaginary Chinese animals by a famous sculptor.
And there is the sign of starting point of the roads near the bridge.
The bridge seems antique and elegant, but the Metropolitan Highway runs just over the bridge along the river.
So it spoils the sight.
The governments of Japan and Tokyo Metropolis have started considering moving the highway to the underground.
But, that will realize after 2030.
Tokyo Stock Exchange (
東京証券取引所

)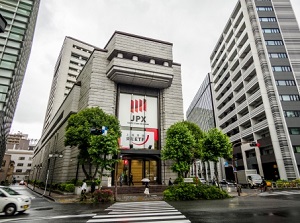 Tokyo Stock Exchange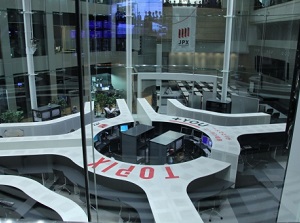 Market Center in TSE
Tokyo Stock Exchange is located 0.3 km east of Nihonbashi bridge.
It is one of the world's three largest stock exchenges, along with London and New York.
The average daily value of stock transactions is over 3 trillion yen.
Its operating hours are from 9:00 to 11:30 am, and from 12:30 to 3:00 pm.
There is the visitor facility TSE Arrows so we can look around about the trading floor.
By the way, the address of Tokyo Stock Exchange is "Nihonbashi-kabutocho".
"Kabutocho" is synonymous with stock market in Japan, so it is like Wall Street in New York.
Around Kabutocho, many securities houses are concentrated.
Bank of Japan (
日本銀行

)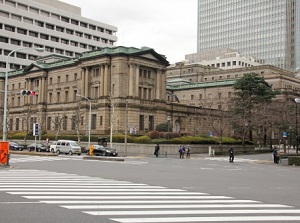 Bank of Japan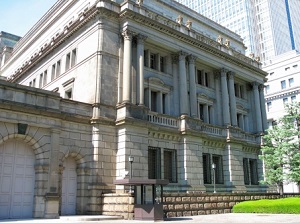 Bank of Japan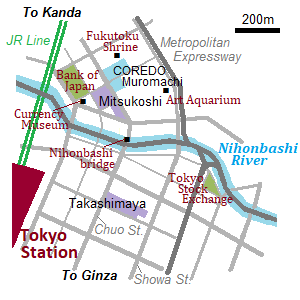 Bank of Japan is the headquarters of central bank in Japan.
It is located 0.3 km northwest of Nihonbashi bridge.
It issues Japanese bills and coins.
And it administers financial policies such as operation of the official discount rate and open-market operations.
In Japanese, "Bank of Japan" is called "Nippon Ginko".
This spelling is wriiten on each bank note.
The bank has old and new buildings.
The old building was built in 1896, and is designated as a nationally important cultural property.
The historical building is surrounded with new big buildings.
So, it looks relatively poor for me, but it is the symbol of the bank.
The guided tours in the bank are held 4 times a day, but you need the reservation by phone at least a week before.
Currency Museum (
貨幣博物館

)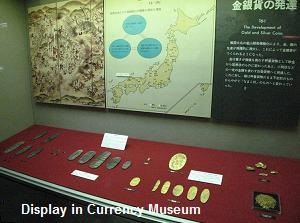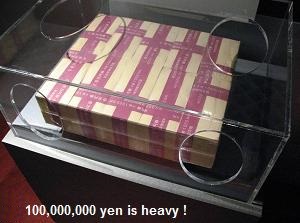 Bank of Japan
Currency Museum is the museum displaying currencies of Japan and other countries.
It is located just south of Bank of Japan, and it belongs to the Institute for Monetary and Economic Studies of the Bank.
You can learn the history of Japanese currency.
Additionally, you can have an experience that you lift the bundles of bills of 100 million yen ! (Of course, they are replicas.)
Fukutoku Shrine (
福徳神社

)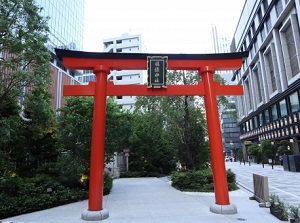 Torii gate of Fukutoku Shrine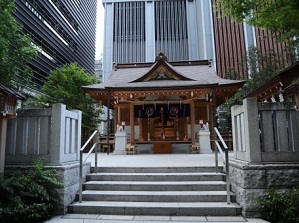 Fukutoku Shrine
Fukutoku Shrine is a small Shinto shrine located in just north block of COREDO Muromachi.
It is also called Mebuki Shrine (芽吹神社).
It is said that this shrine existed around the 860s.
And a few Shoguns of Edo government visit here in the 17th century.
Since the late 20th century, many buildings have been built around the shrine.
During a certain period, this shrine was in the other small place.
But when COREDO Muromachi was constructed in 2009, this shrine was rebuilt in this place.
The road between two buildings of COREDO is designed like an approach to this shrine.
"Fuku" in "Fukutoku" means "happiness" and "toku" means "virtue".
And "Mebuki" means "budding".
Because of auspicious name, you may be happy if you visit and worship this shrine and buy a lucky charm (500 yen).
Art Aquarium Museum
Art Aquarium Museum is a unique and beautiful aquarium and art museum.
It was opened in August, 2020.
30,000 goldfishes are swimming in a lot of various artistic water tanks.
In the dark rooms, the tanks are displayed with colorful illumination.
The works of the museum are produced by Kimura Hidetomo (1972-) who is an artist.
Nihonbashi River Cruising
River cruising boat start from the foot of Nihonbashi bridge.
Some kinds of cruising tours from Nihonbashi river to Sumida river, Kanda river, etc. are provided.
The cruising times are 45, 60, 70 and 90 minutes.
How to get here
To main area of Nihonbashi
From Tokyo station, about 10 - 15 minutes on foot.
Nearest stations of subway.
Nihonbashi (●G11 Ginza Line, ●T10 Tozai Line, ●A13 Asakusa Line)
Mitsukoshi-mae (●G12 Ginza Line, ●Z09 Hanzomon Line)
To Tokyo Stock Change
Nearest stations of subway.
Nihonbashi (●G11 Ginza Line, ●T10 Tozai Line, ●A13 Asakusa Line)
Kayabacho (●H13 Hibiya Line, ●T11 Tozai Line)
Hotels around Nihonbashi
Other Tourist Attractions in Tokyo Metropolis (Special Wards)