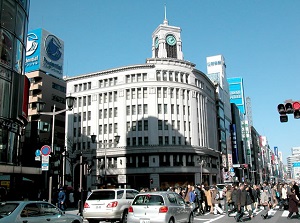 Ginza 4-chome intersection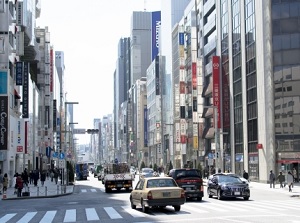 Ginza Street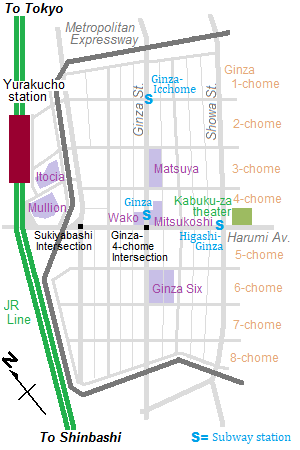 Ginza is one of the oldest shopping districts in Tokyo.
In this area, there are famed department stores, many brand-name stores, various restaurants and cafes.
Also we can find many galleries.
But there are not many mass retailers, fast-food shops, gaming arcades or karaoke bars.
So Ginza is smart and luxurious shopping area.
And all generations visit here.
"Ginza" means "the place of silver minting", and silver coins had been minted in this area in the 17th century.
In 1872, this area was destroyed by the great fire.
On this occasion, Tokyo Mayor constructed new Western-style town using firebrick.
Since that, Ginza area developed as a modern downtown.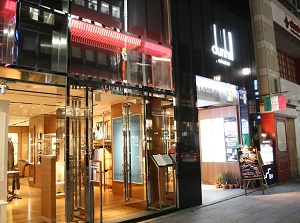 Shops along Ginza Street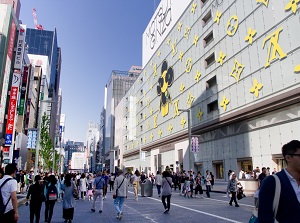 Car-free promenade on Ginza Street
Ginza is located southeast of JR Yurakucho station.
The area is about 1.2 km long from northeast to southwest and 0.7 km wide.
And it has grid of streets and avenues.
The main street running from northeast to southwest is Ginza Street (銀座通り). (The formal name is Chuo Street [中央通り].)
Seven avenues running from east to west divide the area into 8 blocks.
They are named as from "Ginza 1-chome" to "Ginza 8-chome" in order from north.
The central avenue between 4-chome and 5-chome is Harumi Avenue (晴海通り).
The intersection of Ginza Street and Harumi Avenue is the center of Ginza.
It is often called Ginza 4-chome intersection (銀座四丁目交差点).
It is the most popular place in Ginza.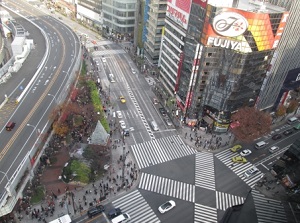 Sukiyabashi intersection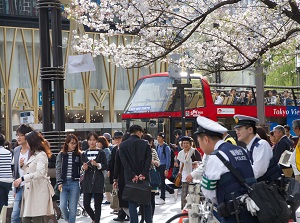 Ginza in spring
The nearest JR station to this intersection is Yurakucho.
So the street between Yurakucho station and the intersection is an popular approach for visitor.
Sukiyabashi intersection (数寄屋橋交差点) near Yurakucho station is also well-known as a meeting place for visitor.
The main streets have a lot of traffic of car.
But, the whole Ginza Street is turned into car-free promenade from 12:00 to 18:00 (17:00 between October and March) on Saturday, Sunday and National Holiday.
How to get here
From JR Yurakucho station, about 10 minutes on foot.
Nearest stations of subway.
Ginza (●G09 Ginza Line, ●M16 Marunouchi Line, ●H09 Hibiya Line)
Higashi-Ginza (●H10 Hibiya Line, ●A11 Asakusa Line)
Ginza-Icchome (●Y19 Yurakucho Line)
Hotels around Ginza
Other Tourist Attractions in Tokyo Metropolis (Special Wards)