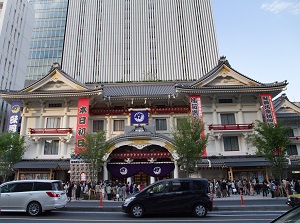 Kabuki-za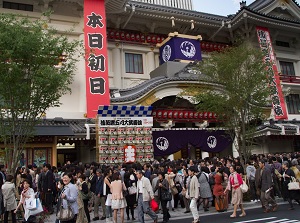 Entrance of Kabuki-za
Kabuki-za is the theater for Kabuki.
It is located about 300 meters southeast of the center of Ginza, but the nearest subway station is Higashi-Ginza.
The organization of "Kabuki-za" was established in 1889.
Before that, there were some theaters in Tokyo.
But the Kabuki-za theater was larger than these.
Because it had invited many excellent Kabuki actors, so it became the sanctuary of Kabuki.
But the theater was burned down by a short circuit in 1921, then the rebuilding theater was damaged by Great Kanto earthquake of 1923.
By the earthquake, the other small theaters had been destroyed.
In 1925, Kabuki-za was rebuilt, but it was destroyed in air raid in 1945 again.
After postwar, the theater with 2,600 seats was built in 1950.
Half century has passed, and the building got older.
So the new theater was rebuilt and completed in 2013.
In all period, Kabuki-za has always been the central theater of Kabuki.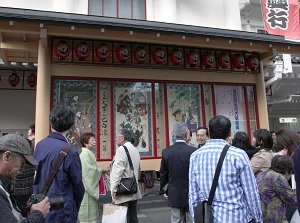 Display board of program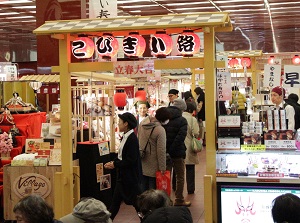 Souvenir shops in Kabuki-za
The performances are scheduled for about 24 or 25 consecutive days every month. (In August 18 to 20 days)
And every day, the afternoon performance (about 11:00-15:30) and the evening performance (about 16:30-20:30) are held.
Each performance has 3 to 5 dramas.
If you want to see the Kabuki, you can get the chance with comparative ease.
Even the ticket for only one drama is sold.
How to get here
From JR Yurakucho station, about 10 minutes on foot.
Nearest stations of subway.
Higashi-Ginza (●H10 Hibiya Line, ●A11 Asakusa Line)
Ginza (●G09 Ginza Line, ●M16 Marunouchi Line, ●H09 Hibiya Line)
Hotels around Ginza
Other Tourist Attractions in Tokyo Metropolis (Special Wards)