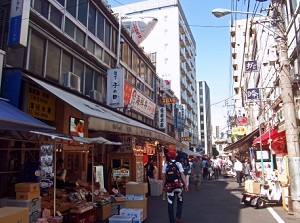 Tsukiji Outer Market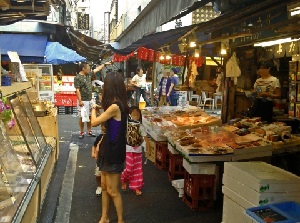 Narrow street in Tsukiji Outer Market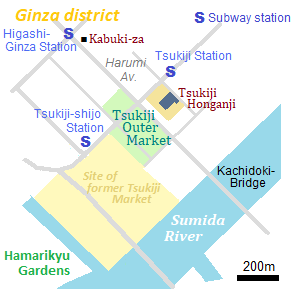 Tsukiji Market was the biggest wholesale fish and seafood market in the world and also one of the largest wholesale food markets of any kind.
In Japanese, it is called "Tsukiji-shijô".
It is located about 1 km south of central Ginza, and the main site was about 400 meters square.
The tuna auction and the other working places had interested many foreign tourist.
But, because Tsukiji Market constructed in 1935 became too old, it was moved to new Toyosu Market in October 2018.
It is located about 2.5 km southeast of Tsukiji.
The main facilities of the market and Uogashi-Yokocho which is the shopping town for the workers of market were moved to Toyosu Market.
But Outer Market remained.
Tsukiji Outer Market (
築地場外市場

)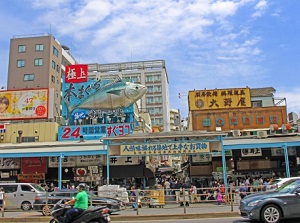 Tsukiji Outer Market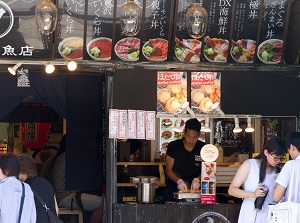 Fish restaurant in Tsukiji Outer Market
Tsukiji Outer Market is located northern next to the former main market, and has about 400 shops.
There are many fish shops, seafood shops, vegetable shops and other various shops in this area.
We can find several sushi restaurants.
Not only retailers but also ordinary people and tourists do their shopping.
This market is also closed on Sunday, National Holiday and some Wedensedays.
Tsukiji Honganji temple (
築地本願寺

)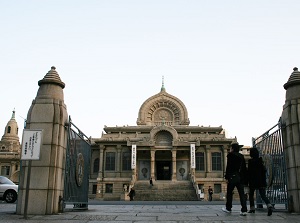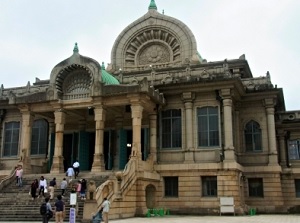 Tsukiji Honganji is a Buddhist temple for Jodo-Shinshu which is a school of Pure Land Buddhism, and is a branch temple of Nishi-Honganji in Kyoto.
It is located just east of Outer market area.
It was originally established near Asakusa in 1617, but it was burnt down in 1657.
After that, it was rebuilt here in 1679 because of the rearrangement of original land.
This temple avoided collapsing by the Great Kanto Earthquake in 1923, but it had been burnt down again by spreading fire.
Then, the current temple was built in 1934.
This appearnce is very unique as Japanese temple, and it looks like a palace in South Asia.
How to get here
Nearest stations of subway.
Tsukiji (●H11 Hibiya Line)
Tsukiji-shijo (●E18 Ooedo Line)
Hotels around Tsukiji
Other Tourist Attractions in Tokyo Metropolis (Special Wards)