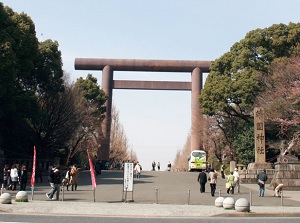 Entrance gate of approach to Yasukuni Shrine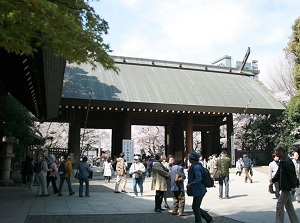 Main gate of Yasukuni Shrine
Yasukuni Shrine ("Yasukuni-Jinja" in Japanese) is a Shinto shrine.
It is located northwest of Imperial Palace (Kôkyo) and about 0.5 km west of Nippon Budokan arena.
It was founded in 1869 to enshrine the spirits of samurais killed in the civil war to overthrow the feudal Edo government and found the new Meiji government.
And after that, the spirits of all Japanese persons killed in some wars involving Japan had been enshrined.
So now about 2,466 thousand spirits are enshrined, and about 95% of them are killed in the World War II.
This shrine had been placed under the government before the World War II.
But after the war, it became a mere religious corporation under a current Constitution that demands separation of religion and politics.
Every day, many Japanese people visit here to renew a pledge not to fight a war again.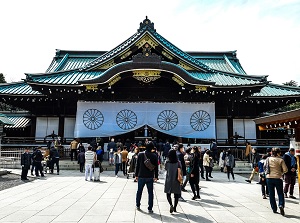 Main hall of Yasukuni Shrine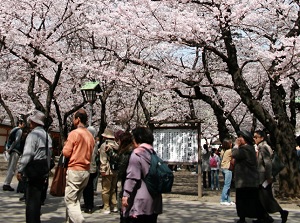 Cherry blossoms in Yasukuni Shrine
However, troublingly, the class-A war criminals of the World War II are included in the spirits.
So whenever the Japan's Prime Minister visit here, Korea and China that Japan had once occupied protest against Japan.
(In the 2010s, a few cases of arson of this shrine by Korean and Chinese occured.)
Of course, I hear a variety of arguments for and against the visit by Japan's Prime Minister.
Some have a suggestion to enshrine the class-A war criminals separately.
But Japan government can't force the shrine to do so.
Others have a suggestion to build a new national memorial facilities.
But it's not that the suggestion gains much approval.
I think that it may not be resolved soon.
Yasukuni Shrine is one of the popular cherry blossom viewing spots in Tokyo.
And, Japan Meteorological Agency declares the flowering and full-bloom dates of cherry blossom in Tokyo monitoring the cherry trees in Yasukuni Shrine.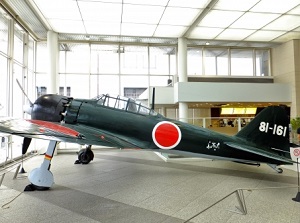 Warplane Zero in Yushukan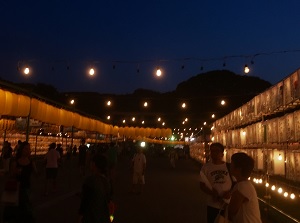 Mitama Festival
There is a museum Yushukan (遊就館) in the precincts of a shrine.
In the museum, many articles related to some wars are displaying.
We can see also a famous Japanese warplane named Zero, tank, torpedoes and other weapons used in the war.
The main festivals of the shrine is held in April and October.
As a summer festival, Mitama Festival is held from July 13th to 16th every year.
Some famous local dances are performed, and over 30,000 lanterns are lit in the evening.
How to get here
About 8 minutes walk from Ichigaya station (local train on Chuo Line).
About 8 minutes walk from Iidabashi station (local train on Chuo Line).
Nearest stations of subway.
Kudanshita (●T07 Tozai Line, ●Z06 Hanzomon Line, ●S05 Shinjuku Line)
Hotels around Hanzomon station
Other Tourist Attractions in Tokyo Metropolis (Special Wards)