Chidorigafuchi National Cemetery [
千鳥ヶ淵戦没者墓苑

]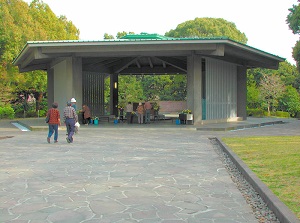 Rokkakudo in Chidorigafuchi National Cemetery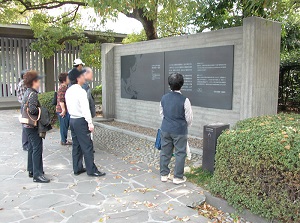 Visitors reading explanation board
Chidorigafuchi National Cemetery is the cemetery for unknown soldiers and civilians who were killed abroad in the World War II.
It is located just northwest of Imperial Palace (Kôkyo), and is near the moat surrounding Kokyo named Chidorigafuchi.
This cemetery was built in 1959.
The main facility is a charnel house Rokkakudo.
It has more than 348,000 people's bones, and they are laid to rest in the basement.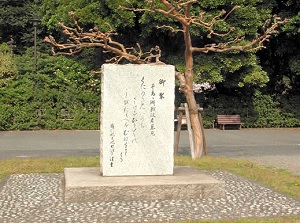 Monument of short poetry by Showa Emperor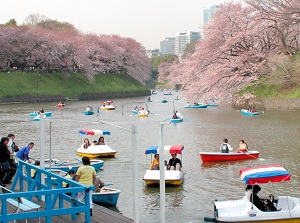 Chidorigafuchi moat in spring
And there is a monument containing the short poetry for the dead people by Showa Emperor.
This cemetery has no denomination.
So this has no festival.
We can visit here throughout the year.
By the way, Chidorigafuchi is one of the popular cherry blossom viewing spots in Tokyo.
About 260 cherry trees are planted along 700 meters of the road facing the moat to the north from the cemetery.
we can play boating in the Chidorigafuchi moat.
How to get here
Nearest stations of subway.
Hanzomon (●Z05 Hanzomon Line)
From the station, about 0.5 km walk.
Kudanshita (●T07 Tozai Line, ●Z06 Hanzomon Line, ●S05 Shinjuku Line)
From the station, about 1 km walk to the cemetery, about 0.3 km to the north end of Chidorigafuchi moat.
Hotels around Hanzomon station
Other Tourist Attractions in Tokyo Metropolis (Special Wards)