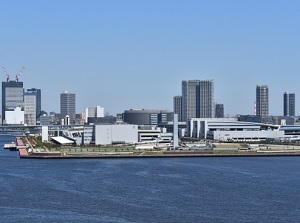 Toyosu Market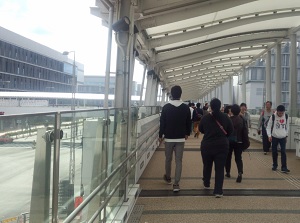 Pedestrian bridge to Toyosu Market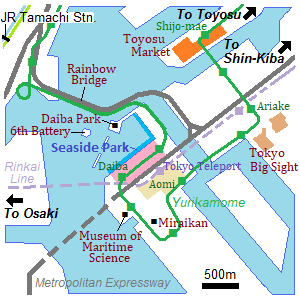 Toyosu Market is the wholesale fish and seafood market in Tokyo.
It is located about 2 km northeast of Odaiba area and about 4 km south-southeast of Tokyo station.
Tsukiji Market has been the central market in Tokyo, and has also been popular with tourists.
Because main part of Tsukiji Market became too old, Toyosu Market was constructed and the function of the market was moved from Tsukiji to Toyosu in October 2018.
Tsukiji Market was open for torists, but Toyosu Market has tour courses.
Tourist can see the works of the market through the windows along the tour courses.
And tourists can visit the shops and restaurants for the worker.
There are three main market buildings and a management facility building.
The buildings and Shijo-mae station of "Yurikamome" (Automated guideway transit) are connected with pedestrian bridges.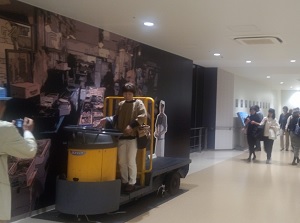 Displaying turret truck using in Toyosu Market
There is Management Facility Building (管理施設棟) to the southwest of Shijo-mae station.
There is the museum of the market in the building and you can get the brochure there.
From the building, you can go to Fisheries Wholesale Building (水産卸売場棟).
Popular tuna auction is held in this building between 5:30 and 6:30 a.m.
Tourists can see it from the tour course. (Tourists can't go near the place of auction.)
A special observation deck for tuna auction is set up.
Reservation is required via the Internet, but only 120 tourists can enter the deck in the lottery.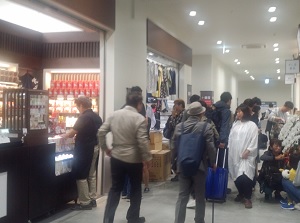 Various shops in Toyosu Market
There is Fisheries Intermediate Wholesale Building (水産仲卸売場棟) to the north of Fisheries Wholesale Building.
The retail stores and the restaurants in Tokyo come to buy the fishes in this building.
There is a rooftop garden and you can see the view of Tokyo.
Fruit and Vegetable Market Building (青果棟) is just at the south of Shijo-mae station.
It is the market for various fruits and vegetables.
Toyosu Market is basically open from Monday to Saturday.
It is closed on Sunday and Japanese national holiday.
And it is closed from the end of December to the beginning of January.
Tourist can enter from 5:00 to 17:00.
By Fruit and Vegetable Market Building, there is Edomae Jokamachi (江戸前場下町).
It is a mall of restaurant and food, and about 20 popular restaurants and shops are in the mall
How to get here
By Yurikamome, 28 minutes from Shinbashi to "Shijo-mae" (●U14), or 3 minutes from Toyosu (●Y22 Subway Yurakucho Line) to "Shijo-mae".
Hotels around Odaiba
Other Tourist Attractions in Tokyo Metropolis (Special Wards)