Shinbashi & Shiodome [
新橋, 汐留

]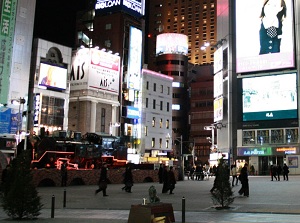 West side of Shinbashi station in the evening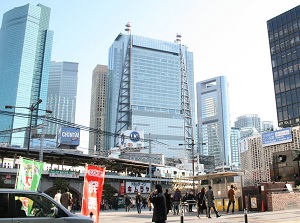 Buildings in Shiodome from Shinbashi station
Shinbashi station is located about 2 km south-southwest of Tokyo station.
The west side of the station is called Shinbashi, and the east side is called Shiodome.
Shinbashi is a traditional business district, and is densely-packed with many multi-tenant buildings.
Especially around Shinbashi station, there are a lot of pubs, bars and eating places.
In the evening, many businessmen drop in there on their way home from workplace.
Not only the pubs in the town but also small pubs under the elevated railway are popular.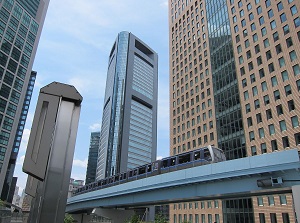 Buildings of Shiodome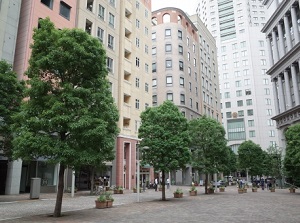 A street like Italy in Shiodome
Shiodome is the new redevelopment zone named "Sio-Site"
Many skyscrapers have been built here since 2004.
They have many business offices, shops and restaurants, and there are 4 hotels in this area.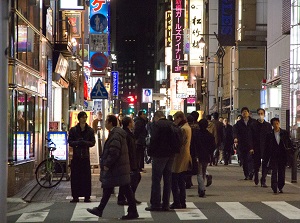 Street with many pubs in Shinbashi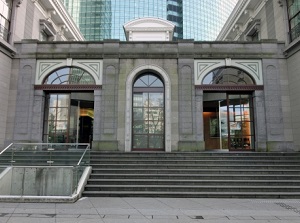 Railway History Exhibition Hall
Originally, Shinbashi was the Japan's first railway station opened in 1872.
It was the terminal of the first railway connecting Tokyo and Yokohama (about 29 km).
It had been the main station of Tokyo until current Tokyo station was completed in 1914.
Shiodome is the area on the east side of Shinbashi, and there was the original station of Shinbashi and a wide freight station.
So Railway History Exhibition Hall has been opened at the place of old Shinbashi Station in current Shiodome area. (At just north of Shiodome City Center building)
After that, Shinbashi had been a wide cargo station of the national railway until 1986.
The name of cargo station was Shiodome, and Sio-Site is constructed on the site of Shiodome station.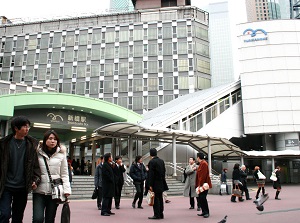 Shinbashi station of Yurikamome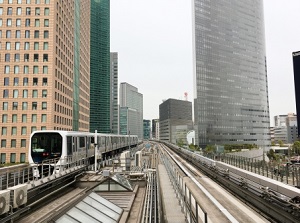 Yurikamome running around Shiodome
From Shinbashi station, we can reach Ginza, Tsukiji, Hamarikyu Gardens and Hibiya park within only 1 km.
And there is the terminal station of Yurikamome, a Automated Guideway Transit, in front of the east exit of JR Shinbashi station.
It leads to Odaiba area through Sio-Site.
How to get here
By JR Yamanote, Keihin-Tohoku, and Tokaido Lines, about 3 minutes from Tokyo station.
Nearest stations of subway.
Shinbashi (●G08 Ginza Line, ●A10 Asakusa Line, ●U01 Yurikamome)
Shiodome (●E19 Ooedo Line, ●U02 Yurikamome)
Hotels around Shinbashi
Other Tourist Attractions in Tokyo Metropolis (Special Wards)