Kyu-Shibarikyu Gardens [
旧芝離宮恩賜庭園

]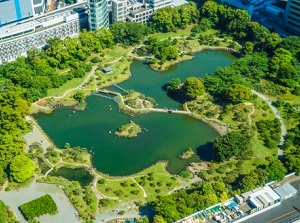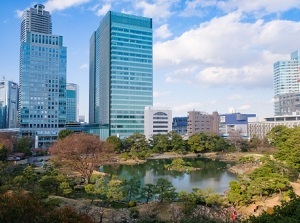 Kyu-Shibarikyu Gardens is a Japanese garden located just east of JR Hamamatsucho station.
It is about 0.5 km southwest of Hamarikyu Gardens.
It is roughly quadrangular and is about 200 meters square.
This garden was built by Ookubo Tadazane, a chief councilor of Edo Government, in 1686.
When this garden was completed, the east side faced Tokyo Bay and the tide of the sea comes and goes in the pond of the garden like Hamarikyu Gardens.
But the area had been reclaimed and is surrounded with many buildings now.
In 1875, the Emperor's family bought this garden as a detached palace.
And a guest palace was built in 1891.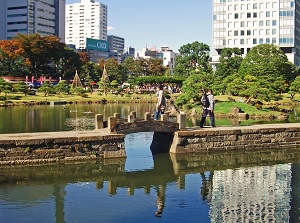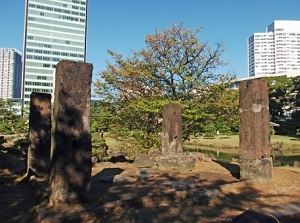 But it was destoyed by the Great Kanto earthquake in 1923.
Next year, this garden was donated to Tokyo city in celebration of the marriage of the prince (after Showa Emperor) and was opened to the public.
At that time, a pond, some islands, a shore, a mountain, etc. were created in the garden.
The dike in the pond was modelled after the dike in West Lake of Hangzhou city in China.
There are mysterious four stone pillars by the pond.
It is said that they were the gateposts of teahouse in Mr.Ookubo's residence in Odawara city and he moved them to this garden.
How to get here
From JR Hamamatsucho station (Yamanote, Keihin-Tohoku Lines), about 1 minutes on foot.
Nearest stations of subway.
Daimon (●A09 Asakusa Line,●E20 Ooedo Line)
Other Tourist Attractions in Tokyo Metropolis (Special Wards)