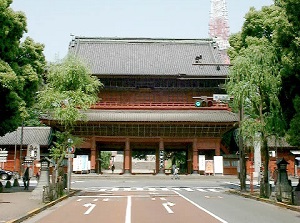 Sangedatsumon gate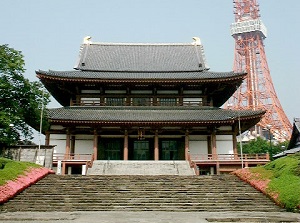 Daiden
Zojoji is a Buddhist temple located just east of Tokyo Tower.
In Japanese, both "o" in the word are pronounced long, so it is read as "Zôjôji".
It is the main temple of Jodo sect (Pure Land Sect) of Japanese Buddhism.
This temple was established in 1393.
It became the temple of Tokugawa family in the early 17th century.
Tokugawa family had governed as Shogun of Japan for generations until 1868.
Originally, this temple had large precincts and there were many buildings.
But new Meiji government since 1868 reduced the scale of this temple, then most area of the temple was changed to current Shiba Park.
Unfortunately, most buildings had been destroyed and lost by the US air raid of the World War II in 1945.
Current area of the temple is about 200 meters square, and the Main Hall Daiden (大殿) is the center of the precincts.
It was rebuilt in 1974.
And behind Daiden, there is the Mausoleum of Tokugawa family.
Six of 15 Tokugawa Shoguns lie at rest in it.
On the east side, there is the gate named Sangedatsumon (三解脱門) built in 1622.
It is the oldest building in this temple, and it is a national important cultural property.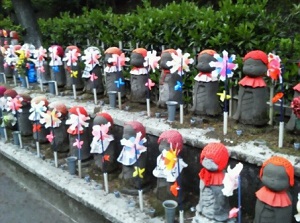 Many jizou statues in the precincts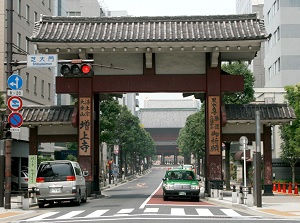 Daimon gate
Originally, Sangedatsumon had been an inner gate of the temple, so the original main gate was Daimon (大門) located about 200 meters east of it.
It stands on a street.
How to get here
From JR Hamamatsucho station, about 10 minutes on foot.
Nearest stations of subway.
Onarimon (●I06 Mita Line)
Shiba-koen (●I05 Mita Line)
Daimon (●A09 Asakusa Line, ●E20 Ooedo Line)
Akabanebashi (●E21 Ooedo Line)
Kamiyacho (●H05 Hibiya Line)
Other Tourist Attractions in Tokyo Metropolis (Special Wards)