Hamarikyu Gardens [
浜離宮恩賜庭園

]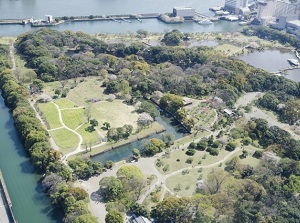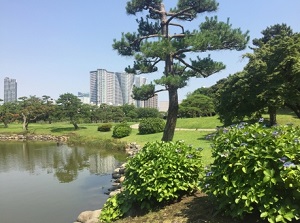 Hamarikyu Gardens is a Japanese garden located just southeast of Shiodome area.
It is roughly quadrangular and is about 2.5 hectares wide (about 500 meters square).
The area is surrounded by canal on three sides, and faces the mouth of Sumida River to Tokyo Bay on the southeast side.
Here had been a reed field for hunting with a falcon for Shogun's family in the early 17th century.
They built a resort villa and developed the garden in 1654.
Then here became a detached palace of Emperor's family in 1870.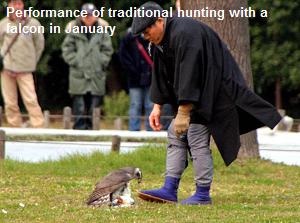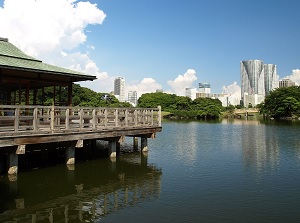 Most buildings had been destroyed by the Great Kanto earthquake (1923) and air raids by by the US Army in World War II (1945).
After the war, Emperor's family donated this garden to Tokyo metropolitan government, and it has been opened to the public with charge since 1946.
In this garden, there are a large seawater pond connected with Tokyo Bay and a few small ponds for duck hunting.
The seawater pond is called Shioiri-no-ike (潮入の池), and the tide comes and goes in the pond.
It is a unique pond that the changing view is seen.
And we can see various blossomes and flowers such as cherry blossom and Japanese tree peony.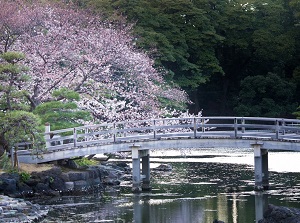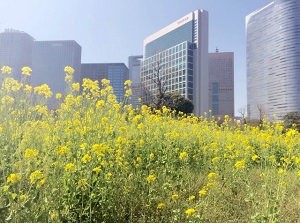 There are two gates, Ootemon gate (大手門, north gate) and Naka-no-gomon gate (中の御門, northwest gate).
Additionally, there is a small port at the east part of the garden.
The pleasure boats touring around Tokyo Bay and Sumida River visit here.
How to get here
To Ootemon gate
From JR Shinbashi station (Yamanote, Keihin-Tohoku, Tokaido Lines), about 12 minutes on foot.
Nearest stations of subway.
Tsukiji-shijo (●E18 Ooedo Line)
Shiodome (●E19 Ooedo Line, ●U02 Yurikamome)
Shinbashi (●G08 Ginza Line, ●A10 Asakusa Line, ●U01 Yurikamome)
To Naka-no-gomon gate
From JR Hamamatsucho station (Yamanote, Keihin-Tohoku Lines), about 5 minutes on foot.
Nearest stations of subway.
Shiodome (●E19 Ooedo Line, ●U02 Yurikamome)
Hotels around Shiodome
Other Tourist Attractions in Tokyo Metropolis (Special Wards)