Meiji-Jingu Gaien [
明治神宮外苑

]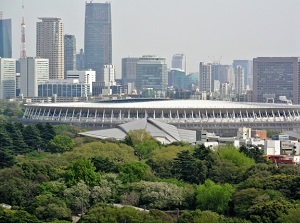 New National Stadium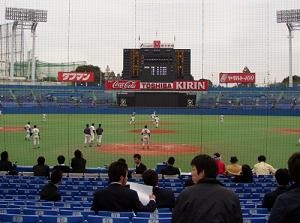 Meiji-Jingu Stadium for baseball
Meiji-Jingu Gaien is a wide park located west of Akasaka Estate and about 1.5 km east of Meiji-Jingu shrine.
The vowel "u" in "jingu" is pronounced long, so it is read as "Meiji-jingû Gaien".
It is usually called "Jingû Gaien" shortly.
After Meiji Emperor passed away in 1912, this park was constructed for leaving his name to future generations.
Then, this park and Meiji Shrine was completed in 1926.
Before the World War II, it was under the control of the government.
After the war, this park has been under the control of Meiji Shrine.
Basically this site is a Western-style garden with many trees.
It has an area of about 48 hectares, and is about 0.7 km from west to east and about 1 km from north to south.
There was the National Stadium for the first Tokyo Olympic Games in 1964 at the nortwest part of the park.
The new National Stadium (国立競技場) for the second Tokyo Olympic Games in 2020 has been rebuilt on the same site.
And, there are Meiji-Jingu Stadium for baseball (明治神宮野球場), Chichibunomiya Rugby Stadium (秩父宮ラグビー場) and some other sport and cultural facilities in this park.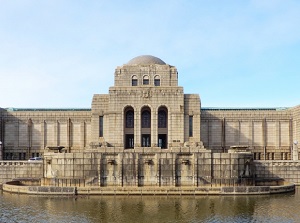 Meiji Memorial Picture Gallery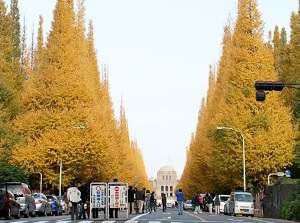 Approach with gingko trees in late autumn
The central facility is Meiji Memorial Picture Gallery.
In Japanese, it is called "Seitoku Kinen Kaigakan" (聖徳記念絵画館).
It is a picture gallery, and is the symbol of this park.
In this gallery, there are 80 pictures about Meiji Emperor and Meiji Period drawn by eminent painters at the time.
Of course, we can enter this park from any side.
But, the most scenic entrance of this park is on the south side.
From Aoyama Street, there is a straight approach about 400 meters long.
Many gingko trees planted in 1923 line along the both side of the approach.
Especially, the approach filled with yellow leaves is beautiful from late November to early December.
How to get here
From the south side
Nearest stations of subway.
Aoyama-Icchome (●G04 Ginza Line, ●Z03 Hanzomon Line, ●E24 Ooedo Line)
Gaien-mae (●G03 Ginza Line)
From the north side
From JR Shinanomachi or Sendagaya station of Chuo Line
Nearest stations of subway.
Kokuritsu-kyogijo (●E25 Ooedo Line)
Hotels around Meiji-Jingu Gaien
Other Tourist Attractions in Tokyo Metropolis (Special Wards)