Meiji Shrine (Meiji-jingu) [
明治神宮

]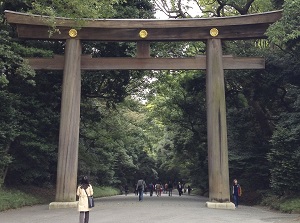 South gate of Meiji Shrine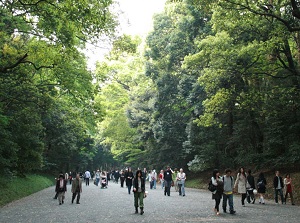 Approach of Meiji Shrine
Meiji Shrine is a Shinto shrine, and is spread just northwest of JR Harajuku station.
In Japanese, it is called "Meiji Jingû".
In 1912, Emperor Meiji passed way.
And Empress Shoken passed away in 1914.
After that, many people requested the construction of the Emperor and Empress's memorial shrine.
So the Japanese government decided the construction of this shrine in 1915.
Then the shrine was completed in 1920.
In addition, Meiji-Jingu Gaien was also completed as a memorial garden in 1926.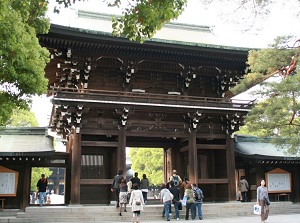 The gate to main shrine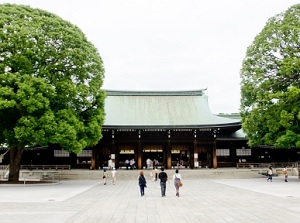 Main shrine of Meiji Shrine
It has an area of 70 hectares.
The area is 0.8 km from east to west and about 1.2 km from north to south.
The whole area is covered with forest.
The main shrine is nearly in the center of the area.
There are three entrances with Torii gate in this shrine.
The most popular entrance of them is south gate near JR Harajuku station.
The distance from south gate to main shrine is about 800 meters.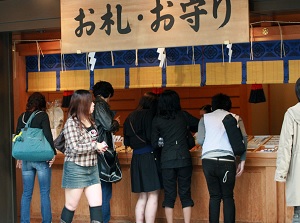 You can buy lucky charms

Wedding ceremony is also held in Meiji Shrine
Every day, many people visit here.
Especially, more than three million worshippers visit here during the first three days of the New Year.
The number of the worshippers in the New Year period is the highest in Japan.
Additionally every year in the early January, Yokozuna, the highest rank of Sumo wrestler, dedicate the entering-the-ring ceremony to this shrine.
How to get here
Harajuku station (JR Yamanote Line)
Nearest stations of subway.
Meiji-jingu-mae (●C03 Chiyoda Line, ●F15 Fukutoshin Line)
Hotels around Harajuku
Other Tourist Attractions in Tokyo Metropolis (Special Wards)