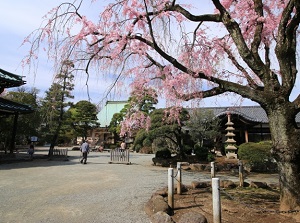 Gotokuji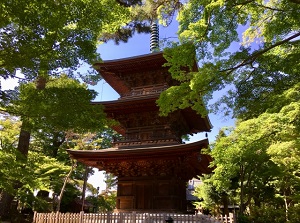 Three-storied pagoda in Gotokuji
Gotokuji is a Buddhist temple of Soto sect of Japanese Zen Buddhism.
The first vowel "o" in the word is pronounced long, so it is read as "Gôtokuji".
It is located about 5 km west-southwest of Shibuya.
It was established in 1480.
In 1633, Ii Naotaka who was the feudal lord of Hikone constructed the main buildings in this temple, because he fixed his family temple here.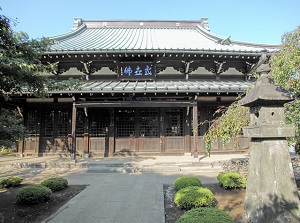 Butsuden in Gotokuji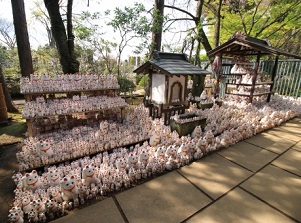 Dedicated Maneki-neko
It is said that this temple is the birth place of Maneki-neko (beckoning cat).
Ii Naotaka passed by this temple by chance.
At that time, the temple had been ruined.
A cat in this temple made a gesture in front of the gate, as if it had beckoned to him.
The cat had been kept by the chief priest of the temple.
Naotaka stopped by this temple.
Suddenly, it started raining heavily.
He was grateful not to get wet with rain and got acquainted with the chief priest.
After that, he donated much money to this ruined temple.
He rebuilted this temple and fixed his family temple here.
When the cat died, the chief priest built a tomb and a small temple for the cat.
And the statue of the beckoning cat (Maneki-neko) was created.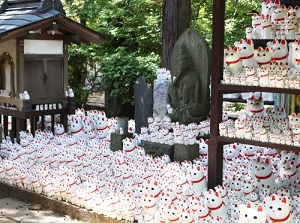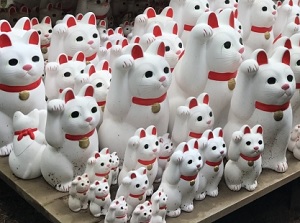 In fact, the small temple for the cat is in the precinct, there are a lot of dedicated Maneki-neko by the temple.
How to get here
About 15 minutes from Shinjuku to Gotokuji by the local train of Odakyu railway.
Walk for 800 meters from the station.
Hotels around Shinjuku
Other Tourist Attractions in Tokyo Metropolis (Special Wards)