Akasaka & Roppongi [
赤坂, 六本木

]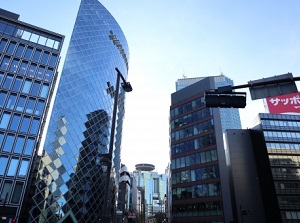 Buildings in Akasaka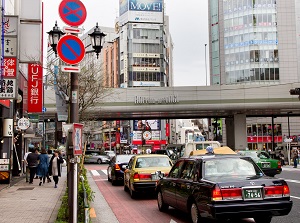 Street in Roppongi
Akasaka and Roppongi areas are at nearly center of the loop of JR Yamanote Line.
To the east of the areas, there are Imperial Palace, National Diet Building and Tokyo Tower.
To the west, there are the towns such as Shinjuku and Shibuya.
Akasaka is the north part of these area, and Roppongi is the south part.
These areas are undulating, so the towns have many sloping roads.
In Edo Period (1603-1868), here had been the town with old samurai residences.
And a regiment of Japanese Army had been stationed until the end of World War II, so here was a town for soldiers.
After the war, the site of the army was condemned by allied forces.
Then, many shops for foreigners had been opened in this area.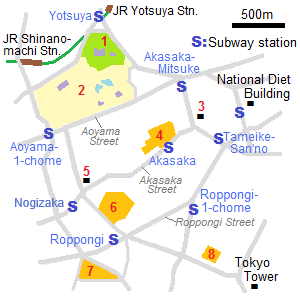 1) State Guest House 2) Akasaka Estate
3) Hie Shrine 4) Akasaka Sacas 5) Nogi Shrine
6) Tokyo Midtown 7) Roppongi Hills
Since the 1950s, a commercial broadcaster moved to Akasaka.
And exclusive cabarets and nightclubs had been opened.
Since the late 1960s, the restaurants and discos for foreigners and young people had increased in mainly Roppongi area.
In this area there are several large hotels.
And the embassy offices of many countries are in the southeast side of Roppongi.
Of course, here is one of business towns, but many foreigners visit here and the business town changes to an sophisticated entertainment town.
Recently, new buildings of skyscraper complex has been built in this area one after another, so this area attracts a lot of attention.
Large complex facilities like landmark in Akasaka and Roppongi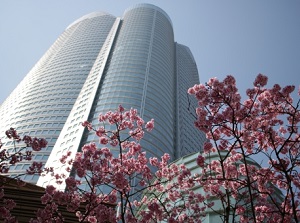 Roppongi Hills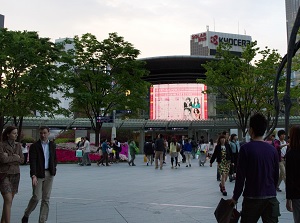 Space in front of Roppongi Hills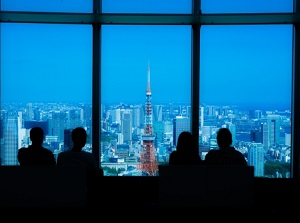 Observatory of Roppongi Hills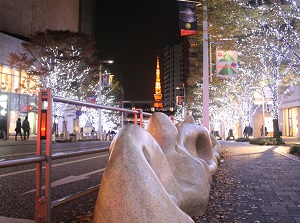 Illumination in winter
Roppongi Hills (六本木ヒルズ) is a complex facility located near subway Roppongi station.
It was opened in 2003 for the redevelopment of Roppongi area.
The central building is Mori Tower 238 meters high, which houses many famous IT companies and worldwide investing companies.
And there are commercial facilities, a first-class hotel and a commercial broadcaster (TV Asahi).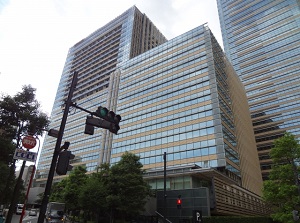 Tokyo Midtown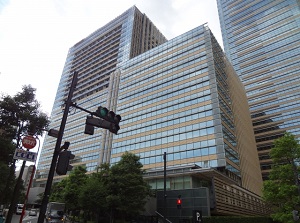 Space in front of Tokyo Midtown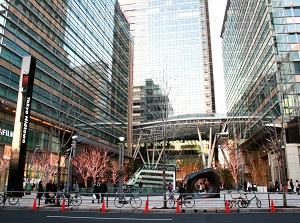 Tokyo Midtown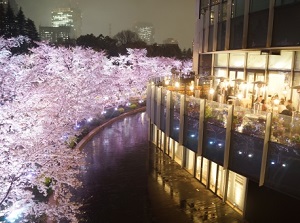 Cherry clossoms around Tokyo Midtown
Tokyo Midtown (東京ミッドタウン) is a complex facility located near Roppongi station and 0.5 km north of Roppongi Hills.
It was opened in 2007.
The main building Midtown Tower is 248 meters high, and some high buildings are built around it.
These buildings include hotels, housings, offices, commercial facilities, hospitals, an art gallery, park and other facilities, so they form a town.
Around Tokyo Midtown, many cherry trees are planted.
This area is popular in the season of cherry blossom.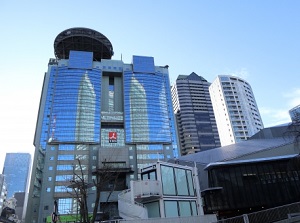 Akasaka Sacas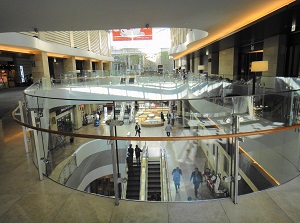 Atrium of Akasaka Sacas
Akasaka Sacas is a complex facility located in the center of Akasaka area.
This complex has been built as the redevelopment project of a commercial broadcaster (TBS) and was opened in 2008.
In this site, there are the broadcasting center of TBS, hall for live music, musical theater, rental housing, and some shops and restaurant.
And there are a few promenades planting a lot of cherry trees.
Shrines in Akasaka and Roppongi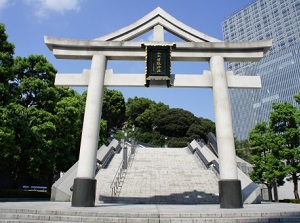 Entrance gate of Hie Shrine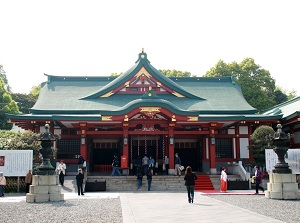 Main Hall of Hie Shrine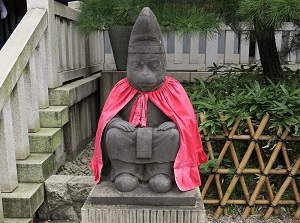 Statue of monkey in Hie Shrine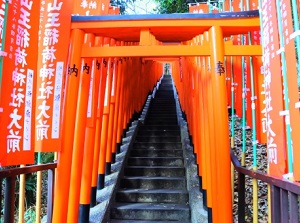 Inari approach in Hie Shrine
Hie Shrine (日枝神社) is a Shinto shrine, and is located at the east edge of Akasaka area.
There is the National Diet Building to the east.
It is said that the first shrine was built as a guardian deity of Tokyo Castle in the 15th century.
Current building was rebuilt in 1958, after the destruction by Great Tokyo Air Raids on March 10th, 1945.
This shrine have the outlook that monkeys are the messenger of God, so there are some stone statues of monkey.
San-no Festival in June is the annual festival of this shrine and one of the major festivals in Tokyo.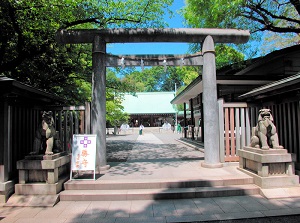 Nogi Shrine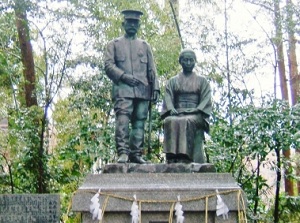 Statue of Mr. and Mrs. Nogi
Nogi Shrine (乃木神社) is a Shinto shrine located 0.4 km northwest of Tokyo Midtown.
It enshrines Mr. and Mrs. Nogi.
Maresuke Nogi (1849-1912) was a general in the Imperial Japanese Army and he was a hero who defeated Russia in the Russo-Japanese War (1904-1905).
He gained deep trust from Meiji Emperor.
When Meiji Emperor had died, he and his wife also killed themselves.
So, this shrine was built in 1923 by the people who had admired him.
State Guesthouse (Geihinkan) (
迎賓館

)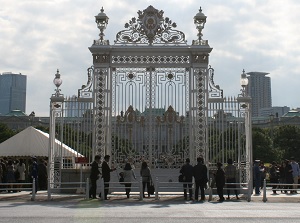 Central gate of Geihinkan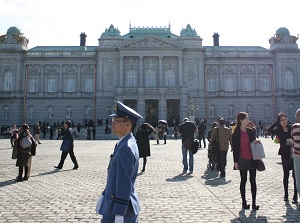 Geihinkan
State Guest House is the facility for treating the state guest.
In Japanese, it is called Geihinkan.
It is at the north end of Akasaka area, and entrance is near Yotsuya station of JR Chuo Line and subway.
Originally, it was built as the Palace in 1909, when Emperor Taisho was still a Crown Prince.
And it was repaired as State Guest House in 1974.
Of course, it is not for the general public.
But we can observe the inside of the House when official event isn't held.
Akasaka Estate (
赤坂御用地

)

Akasaka Estate is the imperial estate.

The Emperor and his family live in Kokyo (Imperial Palace).
But the families of the Retired Emperor, the brother and the relatives of the Emperor live in Akasaka Estate.

It spreads to the south of the State Guesthouse, and is about 1 km from east to west and 0.5 km from south to north.

Of course, it is not opened to the public.

The site is also called Akasaka Gyoen (赤坂御苑).
There is a wide Japanese garden in the center of the site, so the name means mainly the garden.

Every year, the Emperor and Empress host the garden party at Akasaka Gyoen in April and October.
Many active persons in their specialized fields such as science, culture, sports, entertainment are invited and the Emperor asks them questions directly.
How to get here
To the main area of Akasaka and Roppongi
Nearest stations of subway.
Akasaka (●C06 Chiyoda Line)
Roppongi (●H04 Hibiya Line, ●E23 Ooedo Line)
Tameike-Sanno (●G06 Ginza Line, ●N06 Nanboku Line)
Akasaka-mitsuke (●G05 Ginza Line, ●M13 Marunouchi Line)
Nagatacho (●Y16 Yurakucho Line, ●Z04 Hanzomon Line, ●N07 Nanboku Line)
Nogizaka (●C05 Chiyoda Line)
Roppongi-Icchome (●N05 Nanboku Line)
To State Guest House
From JR Yotsuya station of Chuo Line, about 500 meters to main gate, about 1 km to west gate on foot.
Nearest stations of subway.
Yotsuya (●G05 Ginza Line, ●M12 Marunouchi Line, ●N08 Nanboku Line)
Hotels around Akasaka, Roppongi
Other Tourist Attractions in Tokyo Metropolis (Special Wards)